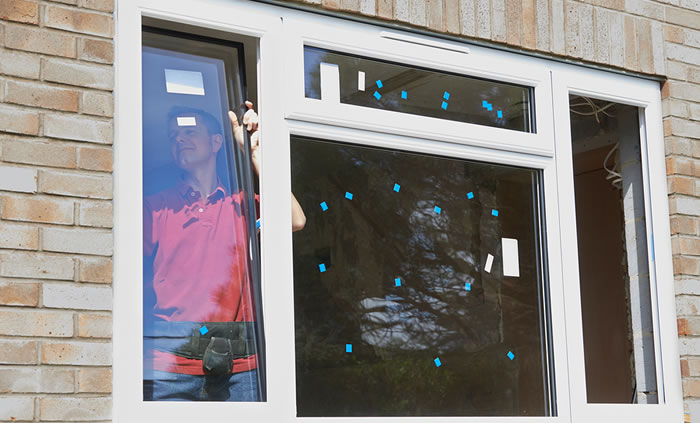 Window Installations and Replacements in Waukesha WI
We specialize in replacing old, inefficient windows.
There are still many Wisconsin homes that were built through the 50's, 60's, 70's and even the 80's that now have old and outdated windows, some of the homeowners have upgraded windows over the years, while many others still have not.  If you've just bought an older home that needed some updating or you are upgrading your older home before you put it on the market if the windows haven't been touched in 15-20+ years then your home is an excellent candidate for replacement.
Paragon Exteriors is a full service exterior home improvement contractor serving the Waukesha WI area.  We specialize in replacing old and inefficient or improperly installed windows with newer, modern, more efficient replacement windows from some of the nations leading manufacturers.  Whether you simply need to replace a few drafty windows in your home or you'd like to replace every window in your home the team at Paragon Exteriors offers the best pricing, the best service and we won't leave any trace of our presence.
Improving Energy Efficiency in Your Waukesha WI Home
One of the best ways to improve the energy efficiency of your home is to install replacement windows.  Today's windows not only save you money on heating and cooling costs, but they are low maintenance – many styles tilt inside the house for easy cleaning.  Additionally, the vinyl frame is maintenance-free, durable and weather resistant.
A professional window replacement or window installation on your Waukesha WI home ensures that the job is done properly. We make sure our employees perform your window installation with incredible attention to detail while adhering to all manufacturer specifications so you can have the peace mind knowing you have a full manufacturers warranty.
There are numerous different types of windows including Double Hung, Casement & Awning, Bay & Garden, Picture and Patio Doors. Our various lines of replacement windows offer superb construction and outstanding energy efficiency. They are built for decades of wear and tear, featuring a fusion-welded vinyl sash and main frame for exceptional strength and structural integrity.
There are also numerous other benefits for installing this line of windows in your Waukesha WI home such as;
Enduring Beauty  Premium vinyl resin extrusions are solid color through and through; won't chip, peel, crack or warp.
Heavy-Duty Construction  Fusion-welded sashes and main frame deliver maximum strength and structural integrity.
Energy-Efficient Design  Multi-chambered sashes and main frame, steel-reinforced meeting rail and double-barrier weatherstripping increase thermal efficiency.
High-Performance Glass  Insulated glass unit with PPG Intercept® Warm-Edge Spacer System saves energy by reducing the conduction of heat at the edge of glass for superior thermal performance and longevity.
Weathertight Design  Protective bulb seal at the sill helps block out dust, dirt and air infiltration.
If you notice any of the following, you may need your windows replaced.
Can you hear noises outside your home well through your windows?
Are your windows showing signs of wear? (Warping, rotting, chipping, stains?)
Do you feel air coming in around your window?
If you have two panes of glass, do you see condensation or fog in between them?
Are your windows difficult to open or close?
Why  Choose Paragon Exteriors For Your Window Replacement in Waukesha WI?
Choosing the right company to replace or install new windows into your  home is a big decision and you want to be sure you're choosing a company that can make this process as hassle free as possible, while providing a fair price and excellent quality workmanship.
When you choose to work with Paragon Exteriors you're going to get that and more.
With Paragon Exteriors you're going to get:
#1.  Clear and concise communication.
#2.  Experienced installation crews.
#3.  Competitive pricing.
#4.  After sale service.
If you'd like to have a consultation and estimate to have new windows installed into your home please call 262-565-8282 to schedule an appointment or fill out our contact form and we'll get right back to you.