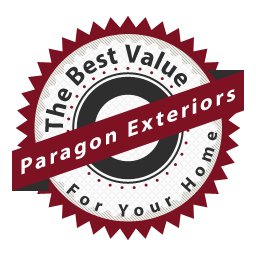 This Is Why Choosing Us Is The Right Choice For Your Roof



When Paragon was first started in 2009, it was because Jake was tired of working for other roofing companies that were inefficient, had poor communication and simply did NOT do what they would say they would do! The main goal of Paragon Exteriors is to provide the best roofing experience as possible for our customers.  Now, after 12 years the business is still going strong because of our commitment to each and every one of our clients. Our reviews will show we consistently reach that goal through professionalism, experience, responsiveness and rigorous quality standards to pass all manufacturer inspections. From your first initial phone contact through the follow up years down the road, we aim to exceed expectations.

Our Roofing Price Match Guarantee
Paragon Exteriors LLC offers our clients a meet or beat price match guarantee on their replacement roof.  How do we know we can do this? Simple! Comparable companies all have large showrooms and support staff that YOU pay for. We work more efficiently and don't have these inflated costs! If you've received a quote for your roof we can meet or beat our competitors estimate so long as we're comparing the same roofing products and the installation is completed by properly insured and manufacturer certified installers.  If we can't meet or beat the estimate we'll tell you exactly why we can't so you're comparing apples to apples with the two different roofing estimates. We KNOW we are the best value for your home when comparing comparable companies (other big companies have even told our customers this)

Got A Competitors Roof Estimate In Your Hand?  Give Us A Chance To Meet Or Beat It!

Roof Replacement Financing For Waukesha & Milwaukee Homeowners
Paragon Exteriors LLC offers a variety of roof financing options so you won't have to keep putting off that new roof.  With our financing options re-roofing your home is within most budgets.  From 0% "Same As Cash" financing over 12 months to a low fixed rate APR over a period of up to 60 months, we have several options available.
Don't be afraid of replacing your roof because you don't have the money in a lump sum. We likely have financing options that will work for you!  Call: 262-565-8282 Now For Financing Options.
Say "NO" To High Pressure Roofing Sales Tactics
We don't believe in high-pressure sales tactics.  We just want to provide our customers with the best roof we can for the budget they have to work with.  If you need financing, we can help too.  We promise we're not going to waste 2 or 3 hours of your time during the estimate just trying to sell you on our services.
We're going to listen to what you want, we're going to inspect your roof, and we're going to give you honest answers as to what your best course of action is.  We're happy to answer your questions and explain the benefits of different roofing solutions within your price range, we're just not going to take up your whole day doing it.
At Paragon Exteriors we certainly want to earn your business but we want you to choose us because we're friendly, we're knowledgeable, and we've got an excellent reputation.  But most of all we want you to choose us because you feel we've listened to all of your needs and you're making a great decision for your home.
What's The Deal With Unrealistic Workmanship Warranties?
You'll see other roofing companies in our area offering "lifetime" workmanship warranties on their roofing work but how can a company who has only been in business for a few years offer a warranty that never ends? Answer – this is a sales tactic used to hopefully earn your business because statistically 95% of roofing businesses fail within their first 10 years.
Here's the truth regarding workmanship defects that they do not want you to know. Nearly all roofing related workmanship errors will show up within the first 1-2 years which is the standard length of time for workmanship warranties across the country as required by law. These other roofing companies know that once your roof replacement gets past one to two years old, any workmanship related error is most likely related to a material failure or a weather related phenomenon which isn't covered in any warranty offered by roofing companies. Those roofing companies know they tricked you into believing their workmanship defects would be covered for an indefinite period of time just to make a sale.
Paragon Exteriors offer a true and honest workmanship warranty. We stand behind our workmanship and will fix any defects related to our workmanship, it's that simple. If we are able to determine that the situation isn't a problem created by our workmanship, we will work with you to fix the problem at discounted rates and will do the leg work with the manufacturer to make it right.
Our Roofing Industry Certifications