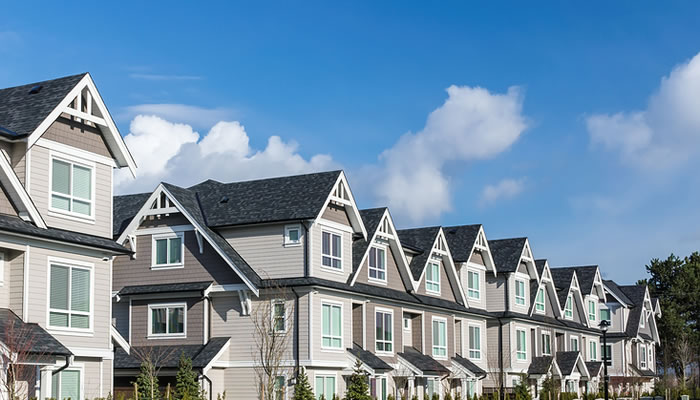 Roofing Services for HOA's and Condo Associations in Waukesha
Do you own, manage or maintain a residential development such as condominiums, townhomes, strata's or apartment buildings?  Many of these structures that were built 15+ years ago are starting to experience the standard maintenance issues with their buildings, one of those items in need of replacement is the roofing system.
Roofing a large structure (or many structures) in multi-family dwellings can be very complex projects depending on many factors such as the pitch of the roof, accessibility, material handling and the actual roof lines themselves.  There are many roofing contractors who would rather concentrate on the simpler projects such as re-roofing single family homes than take on a behemoth sized project like a 50+ unit condo building development.
Paragon Exteriors is a roofing company serving the Waukesha area.  We specialize in the larger, more challenging roofing projects such as those for a home owners association, strata corporation or other type of residential development with a large roof and strict requirements.  We have the equipment, the knowledge, the people and the managerial skills to take on these large projects whether it's the replacement of the entire roof, replacement on specific units or just some roofing repairs after a storm or bad weather.
Roofing Services For Homeowners Associations in Waukesha
Roofing Inspections
Roofing Replacements
Roofing Repairs
Storm Damage Repairs
Single Unit Roof Replacements
Multi-Unit Roof Replacements
It Starts With a Roofing Inspection
The first step in the process is to give us a call so one of our roofing experts can come to your site for a roofing inspection.  We need to look at the roof, the roofing material, all around your flashing and any dormers.  We're looking for clues that an untrained eye might miss such as hail damage, shingles lifting or cracking, poorly installed flashing (or sometimes none at all), roof venting and we're even going to be looking around the gutters too for signs of water intrusion or damage from ice dams.
If your condo, townhome or residential buildings are more than 15-20+ years old and has asphalt shingle roofing that has never replaced then it's a prime candidate to consider for replacement.  If your roof begins to leak or cause water damage to your building and or the individual residences the problem can get drastically more expensive to deal with.
Roofing Replacement For Condo and Home Owner Associations
Having to replace your roof is generally something that most condo associations are prepared for in form of an emergency repair fund.  Paragon Exteriors can work with your budget to help you select the most appropriate roofing material for your building.  From affordable asphalt shingles to more luxurious dimensional or architectural shingles we'll be able to make sure your new roof is secure and will last for many years.
Storm Damage And Roofing Repairs
Paragon Exteriors standard repair policy does not give estimates on repairs on anything we believe would be under $750.00 (minor repair).
We base our normal repair policy charges on a "Time & Materials" basis. There is a minimum service call charge of $345 for the first hour and $115 per hour per two man crew for each hour after with cost not to exceed $500.00.
Rates cover minor materials as well as trip charge time to secure the proper materials for your specific repair.
Note: For EMERGENCY service calls on weeknights, weekends and holidays the standard charge is $400 for the first hour and $150 for each hour after per guy, not to exceed $1000.00. Rates also cover minor materials. Payment is mandatory at the time of service by check or can be charged to a credit card to secure the repair.
Rainy Days - If the repair is too extensive to remain under $750.00 the repair person will tarp the leak are and/or make a temporary repair at the minimum charge if interior water damage is occurring. A formal quote will be given and must be approved before any further work takes place.
Dry Days - If the repair is too extensive to remain under $750.00, the repair person will provide a free estimate to be approved before starting any work. All repairs where charges would be less than $750.00 will begin immediately and services will be charged.
Paragon Exteriors will not guarantee repairs on projects not originally installed by Paragon. This is due to many factors, which may contribute to the source of the leak.
If the "fix" does not solve the problem, a repair person will return to assess the problem. If we missed an obvious problem, there will be no additional charges. If the leak is not obvious, additional charges will be billed as a continuation of the original repair.
All repairs are secured with a major credit card (visa, mastercard)
Once a repair work order is created, a repair person will call the day before or day of the repair depending on our workload to schedule the repair. This is a one-on-one communication with the actual repair person assigned to conduct the repair. If necessary, you may at this time cancel service to avoid any charges or request a specific day and time that works around your schedule and have the repair made.
All repairs must be called into the office at 262.565.8282. (Mon-Fri 8am-4pm)
Why Would You Choose Paragon Exteriors?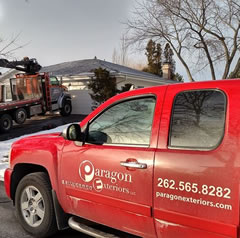 Choosing the right roofing company to replace or repair your roof is a big decision and you want to be sure you're choosing a company that can make this process as hassle free as possible.
With Paragon Exteriors you're going to get:
#1.  Clear and concise communication.
#2.  Experienced installation crews.
#3.  Competitive pricing.
If you'd like to schedule an estimate for roof replacement or repair on your townhome, condo or apartment building then please give us a call or fill out our contact form and someone will be getting back to you shortly (usually the same day if it's not too late)