Honest & Affordable Residential & Commercial Roof Replacement and Repair in Waukesha County WI And Milwaukee County WI.
Paragon Exteriors LLC is a full service roofing company based out of Waukesha, Wisconsin and serving Waukesha County, Milwaukee County and the surrounding Area.  We offer easy roof financing programs so don't let your budget stop you from getting a new roof!

We are a licensed, insured roofing contractor and our installation teams are factory certified, warranty approved installers for CertainTeed and Owens Corning Shingles. We specialize in complete roof replacements, roof repair and the installation of new roofing systems for both residential and commercial buildings as well as condos, townhomes and other large residential developments with very large and complex roofing systems.
Whether you're looking to replace your asphalt shingle roof for your home or even install a beautiful looking architectural shingle roof for your higher end property or estate we can help!  We offer an unbeatable price match guarantee and a rock solid 10 year workmanship warranty so you can have peace of mind knowing you didn't overpay for your roof and it's installed by a company who's willing to stand behind their work.
The experts at Paragon Exteriors LLC will leave nothing behind except a properly installed roof and an excellent customer experience.  Take a few minutes and have a look at some of the before and after photos and videos of roof replacements we've completed, we think you'll be impressed!
Just Say "NO" To High Pressure Roofing Sales Tactics
We don't believe in high-pressure sales tactics.  We just want to provide our customers with the best roof we can for the budget they have to work with.  If you need financing, we can help too.  We promise we're not going to waste 2 or 3 hours of your time during the estimate just trying to sell you on our services.
We're going to listen to what you want, we're going to inspect your roof, and we're going to give you honest answers as to what your best course of action is.  We're happy to answer your questions and explain the benefits of different roofing solutions within your price range, we're just not going to take up your whole day doing it.
At Paragon Exteriors we certainly want to earn your business but we want you to choose us because we're friendly, we're knowledgeable, and we've got an excellent reputation.  But most of all we want you to choose us because you feel we've listened to all of your needs and you're making a great decision for your home.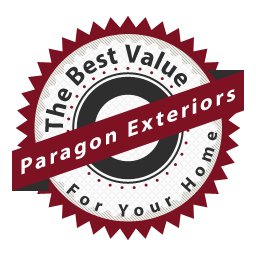 This Is Why Choosing Us Is The Right Choice For Your Roof

When Paragon was first started in 2009, it was because Jake was tired of working for other roofing companies that were inefficient, had poor communication and simply did NOT do what they would say they would do! The main goal of Paragon Exteriors is to provide the best roofing experience as possible for our customers.  Now, after 12 years the business is still going strong because of our commitment to each and every one of our clients. Our reviews will show we consistently reach that goal through professionalism, experience, responsiveness and rigorous quality standards to pass all manufacturer inspections. From your first initial phone contact through the follow up years down the road, we aim to exceed expectations.
Licensed, Insured, Certified
We are properly licensed and properly insured to work on the roof of your home or building. Our team is certified by our product manufacturers and we go through various training seminars yearly put on by the manufacturers.
Efficient Replacements
Our crew is large and hard working so that most of our jobs only take a day. This eliminates noise, dumpsters and trailers from being around multiple days and causing headaches and inconvenience.
 Zero Down Payment
We don't take a down payment for any standard residential roofing job and you should be cautious about ever being asked to pay one! Legitimate companies have established lines of credits with suppliers and they pay their bills!
Workmanship Warranty
We don't offer a fake "lifetime workmanship" warranty here. That sounds like a sales gimmick to us. Whose lifetime does that even mean? What we do is stand behind the work we do for a period of 10 years!
Property Protection
We care about your flowers!  We lay tarps and plywood as necessary to protect your home and were one of the first to ever use the Equipter machine in our area. This eliminates large piles of debris being thrown all over your yard.
Hassle Free Roof Quotes
No, we don't need hours of your day like other guys to explain roofing to you because quite honestly, roofing isn't as difficult as some companies make it seem. We are normally able to explain our entire roofing process within 30 minutes of meeting!
Low Overhead Costs
We operate efficiently which eliminates the need to pay multiple office staff members, multiple sales reps and office building payments. This means a better roof at a better price than comparable companies.
Rave Reviews & Longevity
Did you know 95% of roofing companies won't be in business for 10 years? We've been installing quality roofing systems for over a decade! We are a top rated local company with a track record of customer happiness and satisfaction. 
Our Roofing Industry Certifications