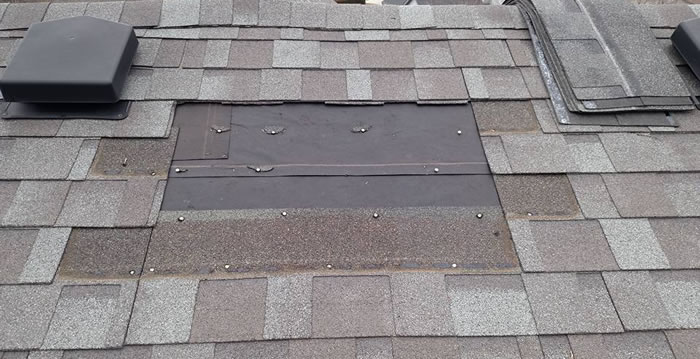 Roof Repairs are often required after a severe storm or an ice dam or if your roofing material is just old and starting to break down. There can be a whole host of reasons your roof is failing and needs repair but it's important to get it repaired as quickly as possible because your roof is a major part of your "building envelope" and if the repairs are not taken care of quickly then your home or it's contents could suffer from water damage and mould.
Paragon Exteriors LLC is a full service roofing company based out of Waukesha, Wisconsin.  We specialize in roofing inspections and roofing repairs for storm damaged or poorly installed roofing that is beginning to fail.  Whatever the cause of your roof damage Paragon Exteriors LLC can repair your roof for you.
How Do You Know Your Roof Needs Repair?
One of the most obvious reasons our clients will phone us with a roof repair issue is because they've discovered a leak!  If your roof is leaking you definitely need a professional to inspect your roofing to see where the problem might be.  It's not always as obvious as you might think, water can take strange and long pathways once it gets inside your home.  Other obvious signs you need roof repair could be missing or damaged shingles, missing shingles are easy to spot but it takes a trained eye to spot damaged shingles.   Damaged shingles aren't always visible to an untrained eye but shingle damage greatly reduces the service life of your roof.
Another common cause of roofing issues we are called out to repair would be missing, damaged or poorly installed flashing around chimneys, pipes or seams between your 1st or 2nd story or dormers.  If flashing is not installed properly, or gets damaged it becomes a wide open gateway for water to enter your home.
Please Take Note: Our roof repair prices start at a modest $345.00. This includes one trip to inspect the problem, a trip to the supply store to gather all the necessary material (remember there are hundreds of different roofing materials making it impossible to carry all the material we need with us) and then a trip back to your property and one hour worth of work on the problem. Our hourly rate is $75 per hour per man.  Materials are extra. If it is determined upon arrival that the repair will be more than $750.00 (roughly a half day of work, minus material), a written proposal will be given.
Your roof damage can manifest itself in several ways but the most common complaint we usually get is that someones roof is leaking.  This could be due to any of the events mentioned above including poor flashing installations, inadequate ventilation installations and more.
Paragon Exteriors helps Waukesha and Milwaukee home and business owners inspect and repair their damaged roofs.  We have experience working with insurance companies and can make the process as painless as possible for you.  We understand the paperwork process and how to speak to your adjuster about your roofing repair requirements.
Roof Repairs in Waukesha Wisconsin
Emergency Roof Tarping
Roof Ventilation Repairs
Structural Roof Repairs
Ice Dam Prevention
Leaky Roof Repairs
New Gutter Systems
If your roof has been damaged and you need to have a professional complete the repairs for you then you should look no further than Paragon Exteriors.  Our highly experienced roofing crews can make short work of your roofing repair project and will make sure the job is done right the first time.
Why Choose Paragon Exteriors For Your Waukesha Roofing Repair Project?
Paragon Exteriors is a full service roofing contractor that specializes in repairing and replacing damaged roofing systems on homes throughout Waukesha Wisconsin.  If the roof on your home, condo, townhome or apartment building is leaking or needs immediate repair our professional roofing teams can locate and fix it for you.
If you'd like an estimate to repair the roof on your Waukesha home with No Mess and No Fuss then please give us a call 262-565-8282 or fill out our online contact form and we'll get right back to you.