Storm Damage Repairs Waukesha County WI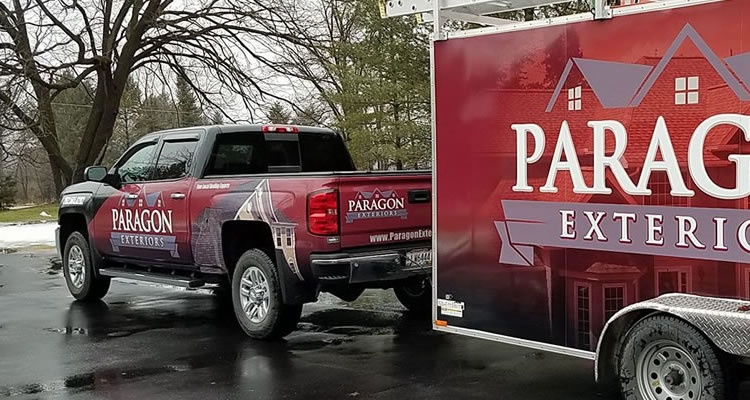 Storm Damage Repair in Waukesha County
Has the roofing on your home or building been damaged by a recent wind, hail, or rain storm?  There is no question that really bad storms can cause severe damage to the roofing on your structure.  Shingles can be bruised, lose their protective granules, fly right off the roof, flashing can damaged, and then the roof leaks start.
Paragon Exteriors LLC is a full service roofing contractor based out of Waukesha County, Wisconsin.  Started in 2010 Paragon Exteriors LLC specializes in roofing repairs for asphalt roofing on single family homes and multi-family structures such as town homes and condos.  We can provide necessary paperwork and documentation for your insurance company to work with and we are well versed in their mountain of paperwork.
If the roofing on your home has been damaged in a recent storm we can help you navigate the repair maze quickly, so you can get your home back into the condition it was prior to the damage claim.  We also offer several low-interest rate financing plans for those who need a roof replaced but cannot afford to pay the cost out of pocket.
Storm Damaged Roof Repairs In Waukesha County, WI
Damaged roof tear-off and replacement
Missing shingle replacement
Hail damaged shingle inspections
Tree and branch damage shingle inspections
Roof flashing repair and replacement
How Do You Get Storm Damage To Your Roof Repaired?
The first step is to call Paragon Exteriors LLC for a roofing inspection (262) 565-8282.  One of our roof inspectors can come to your location and inspect the roof to determine what damage has occurred, how severe it is, and how to replace or repair in the best way.
Fallen Tree or Tree Branch Roofing Damage
Severe windstorms can occasionally bring trees down around your property and sometimes the tree can do significant damage to your home or another building on your property.  Paragon Exteriors LLC can respond quickly if a tree has fallen on your home or building.  It is important to look through your insurance coverage so you can determine what exactly is going to be covered.  Every insurer is slightly different and we can help you with this process.
Roof Repair From Hail or Storm Damage
Hail and Severe Rain take it's toll on a roof system and can drastically reduce the roofs lifespan.  If you think your roof may have been damaged in a recent storm you need to contact professionals immediately.  Hail damage on roofing material takes a trained eye, and cannot necessarily be seen from the ground.  Paragon Exteriors LLC can quickly locate and repair damaged areas on your roof.  Your insurance coverage will vary depending on carrier and how the damage actually occurred.  We can help you with this process.
Missing Or Damaged Roof Flashing
If your the flashing on your roof has been installed correctly it can usually withstand most of the storms Wisconsin's weather can throw it's way.  It's when flashing has been poorly installed or is missing that rain water can enter your home.  What is roof flashing?  Roof flashing are small fabricated pieces of thin gauge metal that are installed on a roof wherever two perpendicular surfaces meet, such as where the roof meets a chimney, or a dormer, or a significant change in your roof line.  Flashing works to channel away from these joints so it doesn't get in behind the roofing shingles.  If your roof has poorly fit flashing, or it's missing in some cases (very common with fly-by-night roofing companies) future damage is bound to happen.
Why Choose Paragon Exteriors LLC To Repair Your Storm Damaged Roof?
Repairing a damaged roof is something you want done right the first time.  Paragon Exteriors LLC team of roofing experts are certified installers that have undergone factory training programs and they know how to identify and repair the most common roofing problems and some that more difficult to find and fix as well.
In addition to the manufacturers warranty for any products we install Paragon Exteriors also offers our own lifetime workmanship guarantee for as long our client owns the home.  If you ever have a problem with your roof due to an installation mistake on our behalf just let us know and we'll quickly come out and fix the problem.
If you'd like to receive an estimate to repair or replace your storm damaged asphalt shingle roof on your home or building please call (262) 565-8282 or fill out our online contact form and we'll get right back to you.
Our Waukesha County WI Service Area