Architectural Shingles Waukesha Wisconsin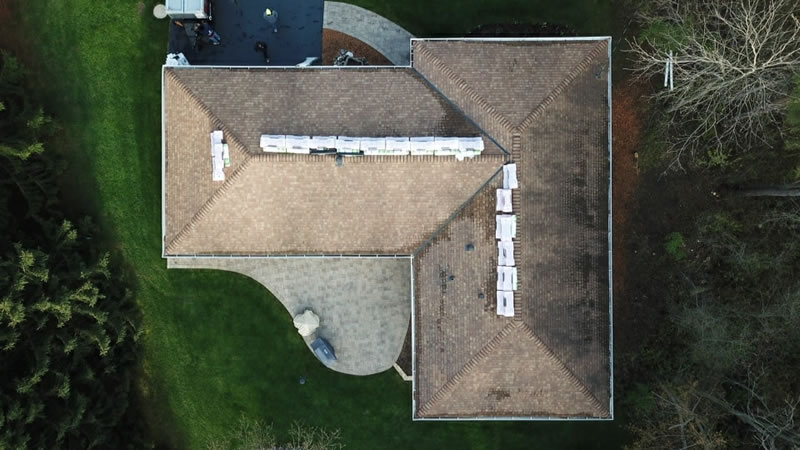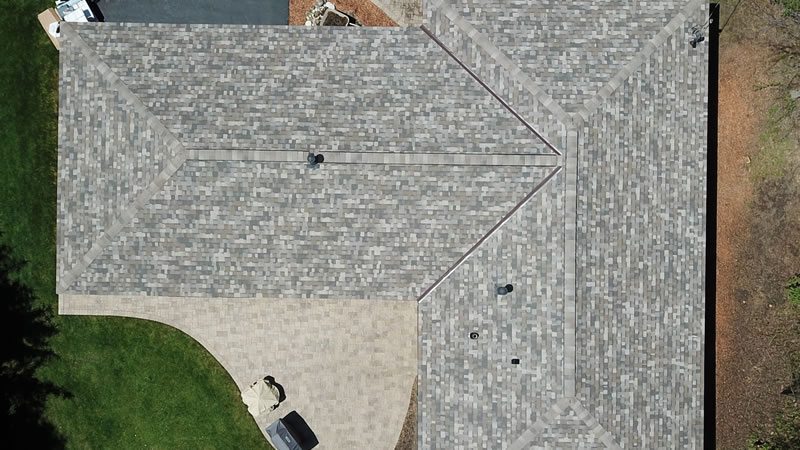 Want A Better Looking, More Durable Roofing System?
Architectural Shingle Roofing Is Your Answer!
If you aren't thrilled with the plain look of a 3-tab standard shingle then the next step up is architectural shingle roofing which is known as dimensional or designer shingle roofing.  With architectural shingle roofing you're taking a big step-up in shingle durability (they are thicker), they usually have the longest and best warranty and they come in many luxury styles and textures mimicking the appearance of cedar shake, slate, stone, and other materials.
Paragon Exteriors LLC is a full service roofing contractor based in Waukesha County, WI and we sell and install architectural shingle roofing systems on high end homes for new construction, home improvement and total roof replacements due to storm damage.  Architectural shingles will help enhance the look of your home or business while offering excellent protection against the elements.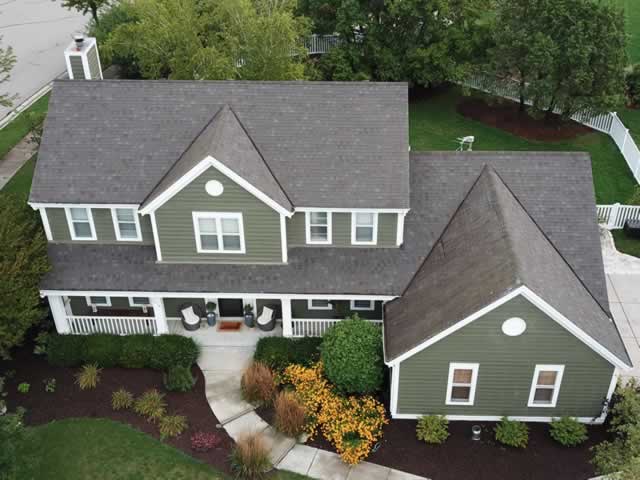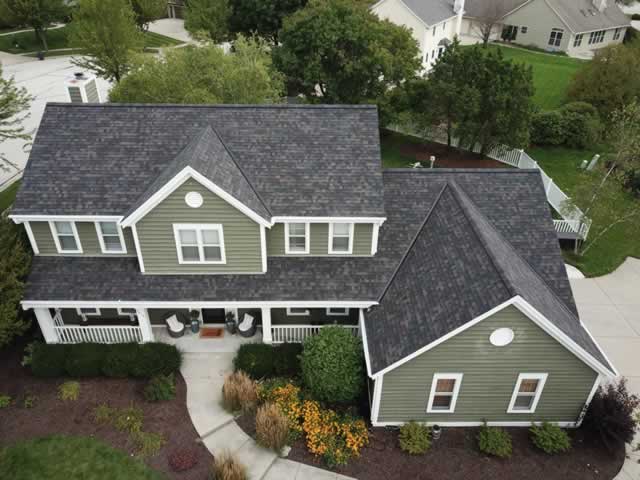 Owens Corning Duration in Black Sable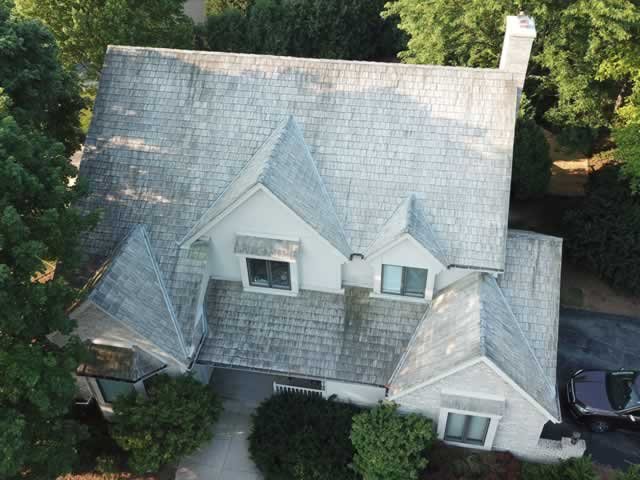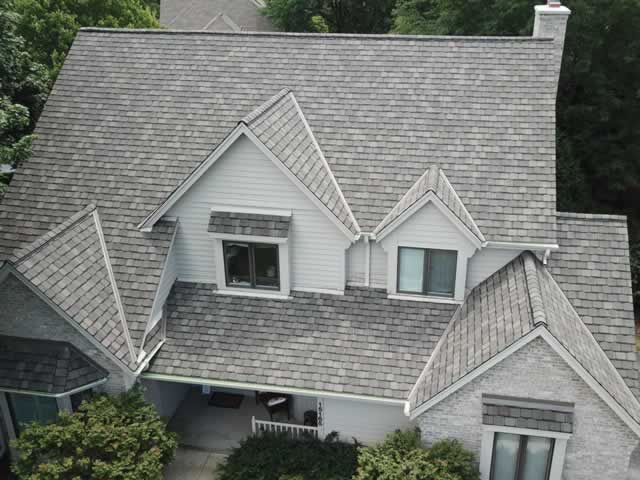 CertainTeed Grand Manor in Weatheredwood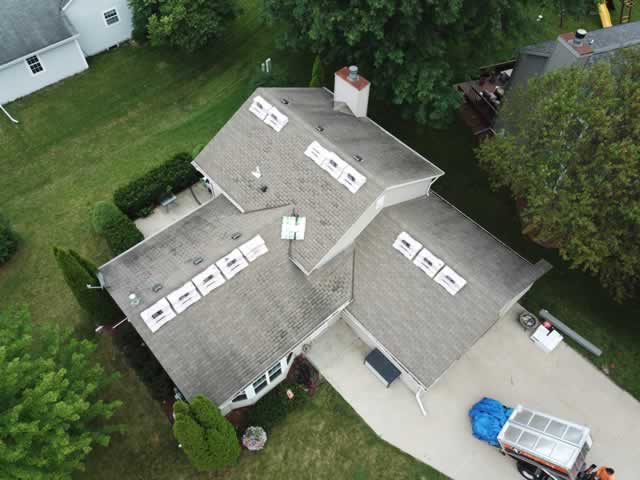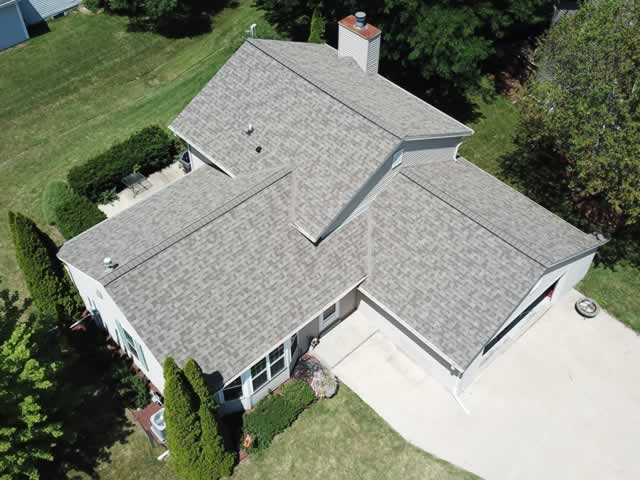 Owens Corning Duration in Driftwood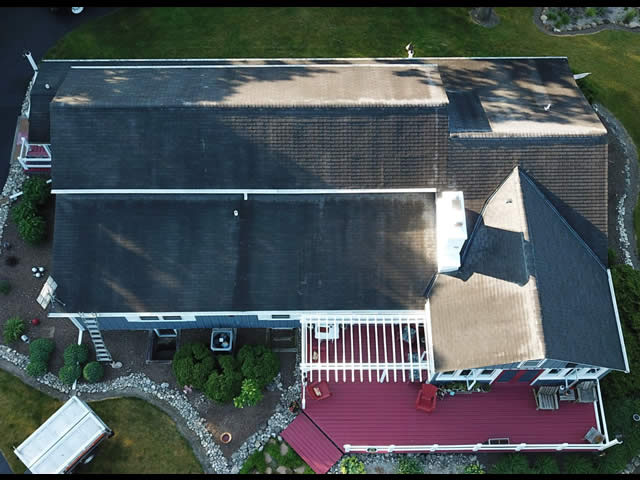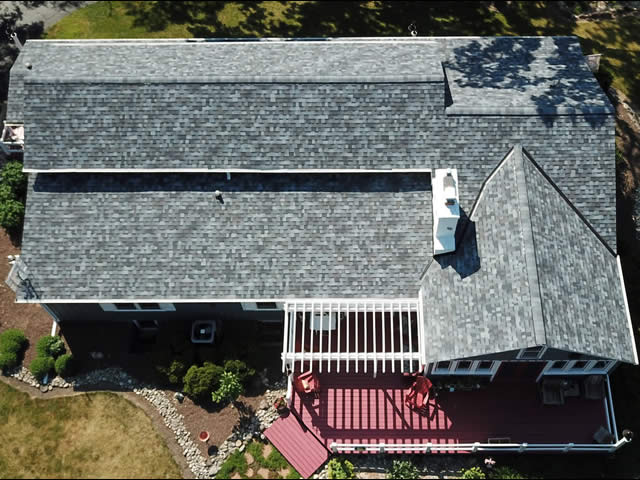 Owens Corning Duration in Pacific Wave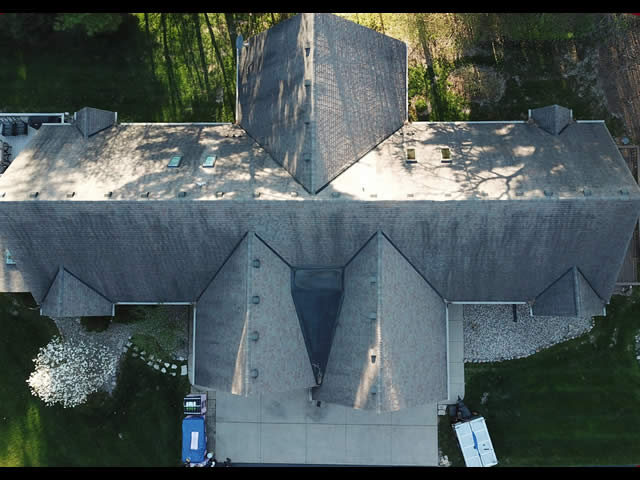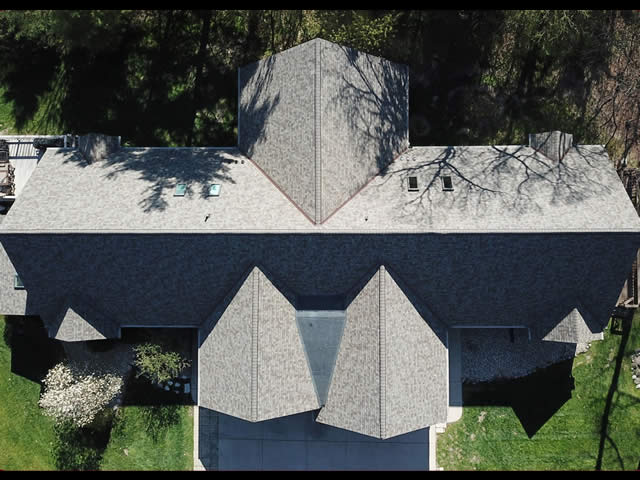 Massive 18,500 Square Foot Roof Replacement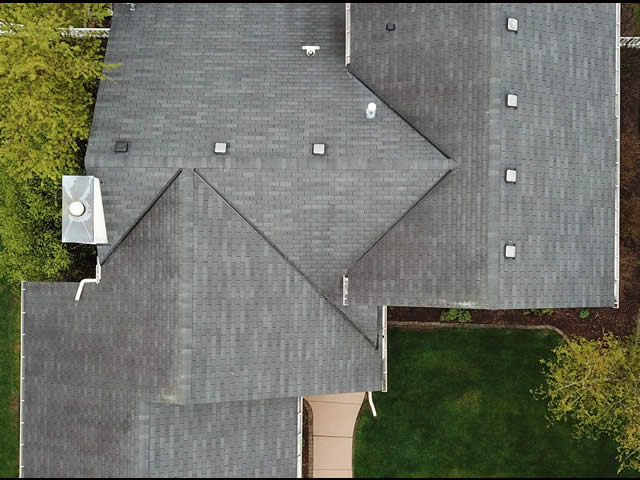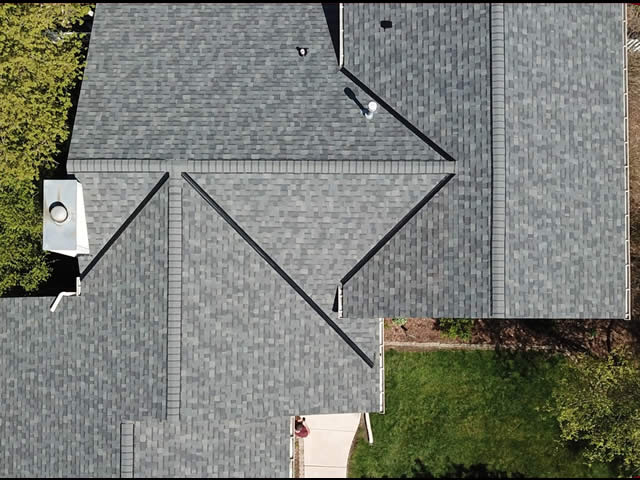 Owens Corning Duration in Estate Gray
What Makes Architectural Shingle Roofing Better?
It's one thing to say architectural shingle roofing is better than a 3 tab shingle but it's another to actually explain why that it is.  Well we'll tell you.  It's actually a combination of several factors that make them a better option beginning with the superior materials and construction of the shingles themselves.
Because of their construction they are thicker and heavier than standard shingles.  This drastically improves their strength and their ability to withstand strong winds, and more intense weather conditions such as driving rain or hail.  3 tab shingles are substantially lighter which makes them more susceptible to strong wind as they can sometimes be ripped away.
A more durably constructed shingle allows manufacturers to stand behind their shingles with a much longer warranty period.  Your typical 3 tab shingle might have a warranty period of 20 to 30 years.  An architectural roofing shingle (when installed by a factory certified contractor) can carry a warranty that lasts 30 to 50 years and in some cases is also non pro-rated.
If you're after the BEST quality roofing shingle than an architectural shingle roofing system is the way to go.
It's not all about the durability though.  Architectural shingle roofing or also known as laminated or dimensional shingle roofing also provides a stunning three dimensional appearance to your roof. Some of the most attractive architectural roofing shingles simulate cedar wood shakes or other popular luxury roofing materials such as stone or slate.
If you want your roofing system to make a statement and improve your curb appeal than you won't find a better option than architectural shingles.
Architectural shingle roofing also offers homeowners many more color and style options then regular asphalt 3 tab shingles.  This flexibility in appearance and design allows you to install a roofing system that really accents your home and in a way that you get to choose.  The color, style and depth of an architectural shingle roofing system will set your home apart from the rest and really boost your curb appeal.
The bottom line is that architectural roofing shingles are a rock-solid investment for your home.  They are more durable, they look better, they have a more robust warranty, and they can also increase the resale value of your home.
Dollar for dollar an architectural shingle roofing system is going to cost less money over the long-term because you won't have to replace it in 15-20 years like a 3 tab shingle roof.  With the average lifespan of an architectural shingle roof exceeding 30 years you'll be getting years more service out of your roof.
Popular Architectural Shingle Roofing We Sell & Install

(click the tabs to learn about each shingle type color/style options)
Landmark Pro Shingle Installations Waukesha WI
The Landmark Pro shingle lineup from CertainTeed is engineered to outperform ordinary roofing in every category, Landmark PRO boasts the rich hues and stunning architectural (dimensional) appearance of CertainTeed's Max Def color technology.
Good looks aside, this dimensional laminate shingle is built to last, with two layers of high-quality roofing asphalt and an industry leading lifetime limited transferable warranty.
Replicates the appearance of cedar shake roofing, with the added flexibility of a colorful palette to choose from to best accent your home.
Fifteen year StreakFighter® algae-resistance warranty when installed by a certified installation contractor like Paragon Exteriors LLC.
Enhanced warranty available when installed by a CertainTeed credentialed contractor
Your new architectural shingles should be good for at least 25 years or even as long as 50 years depending on the particular shingle you've chosen.  To get the maximum warranty and longevity out of your architectural shingles they often need to be installed as a complete roofing system as outlined by the specific manufacturer.  Architectural shingles are built to last a very long time, no question.
In short, yes, they are a better shingle.  Architectural shingles are manufactured with a heavy fiberglass mat as their base and then ceramic-coated mineral granules are tightly embedded into the carefully refined, water-resistant asphalt.  They are thicker than your standard 3 tab shingles and as a result are much more durable and offer a better aesthetic look to your roof.
Paragon Exteriors sells and installs roofing systems from proven manufacturers such as Owens Corning, CertainTeed and GAF.
We only install the best architectural shingle roofing products on your home because a big part of being the best is the warranty behind the products and how the manufacturer handles those claims should they ever occur.
We're looking out for you at Paragon Exteriors not just during your roof replacement but 5, 10, 15 even 25 years into the future.  We want your roof to last!
We Install The Following Quality Roofing:
GAF Roofing Materials
Owens Corning Roofing Materials
CertainTeed Roofing Materials
It's important that the roofing contractor you choose to install your designer roof system educates you on the products that are available and what will work best for your specific home. You want to be sold the right product for your roof! Not the most profitable product for the roofer.
Why Choose Paragon Exteriors To Install Your Architectural Shingle Roofing?
Paragon Exteriors LLC is a small, locally-owned business based out of Eagle, Wisconsin.  We are licensed, insured, and we are also factory certified installers for the best roofing shingles from Owens Corning, CertainTeed, and GAF.  We offer easy-to-qualify, low interest roofing financing options as well so you can get the roof you need now without having to worry about how you'll pay for it.
Our factory certification means your architectural roofing shingles are going to be installed to exacting manufacturer specifications which qualifies your new roof for the maximum available warranty.
With our price match guarantee you're going to get the new architectural shingle roofing that you want and you're not going to overpay.  When comparing other local factory certified installers, we're all installing the same products to the same manufacturers specifications.  Why on earth would you want to pay thousands more than you have too?
At Paragon Exteriors LLC we operate with lower overhead than some of our larger competitors.  We don't maintain a large showroom, nor do we have a large fleet of expensive vehicles.  By keeping our overhead low, we're able to pass the savings onto you.
If you'd like to schedule an estimate to have architectural shingle roofing installed on your home give us a call (262) 565-8282 or fill out our online contact form and we'll get right back to you.