Roofing Services in Waukesha County WI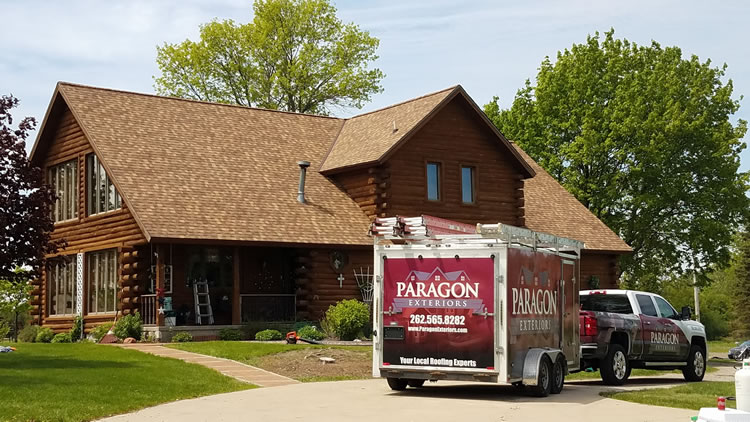 Roofing Services We Offer In Waukesha County, WI
We Are An Experienced, Local, Waukesha Roofing Company
Do you need to tear-off and replace the old roof on your Waukesha County home?  Maybe you need roofing services for a multi-family dwelling such as an apartment complex, townhome or condominium?  Do you have a roof that needs to inspected for damage and wear or possibly repaired?  If you've answered yes to any of these questions then you need the services of a professional roofer.
Paragon Exteriors LLC is a full service roofing contractor based out of Waukesha County, WI and serving the surrounding area.   From replacing an old, worn out, or damaged asphalt shingle roof to installing new laminated and dimensional shingles our team of roofers are manufacturer certified installers and we offer one of the best warranties workmanship warranties out of any company providing roofing services in Waukesha County.
Need Financing For Your Roof Replacement?  We offer competitive, low-rate, roof replacement financing that is easy to qualify for so you can get your roofing services completed without having to dip into your emergency funds, or savings.  You can get the roofing your home or building needs now, rather than wait.
No High Pressure Sales Tactics
We value your time and you won't have to worry about our sales staff chewing through hours of your day or not showing up for scheduled appointments.  We don't use high pressure sales tactics, our goal is to help our customers make the best choice for their roofing system and their available budget.  In most cases we can be in and out of your property within a half hour and can have a quote in your hands often the same day.
Roofing Services We Offer in Waukesha County, Wisconsin
Asphalt Shingle Roofing Services
Does your home have an asphalt shingle roof?  Asphalt roofing shingles are the most commonly used roofing material for homes in Waukesha County because they are affordable and readily available in a variety of different quality levels (good, better, best) and many different styles and patterns.  There are many manufacturers of asphalt shingle roofing products but Paragon Exteriors LLC is a certified Select Shingle Master with CertainTeed roofing products as they offer a quality shingle with one of the best warranties in the roofing business.
Multi-Family Structure Roofing Services
Paragon Exteriors LLC has experience replacing roofing on large multi-family structures and dwellings such as condominiums, townhomes, and apartment buildings.  Your residents will feel confident knowing their roofing has been installed properly by a professional team.  We have experience working in these residential developments and are courteous and respectful of your residents with minimal disruption to their daily routine.  We use special equipment like our Equipter which helps keep the job site spotless and we won't damage any of your landscaping, lawns, or gardens when we tear-off the old roof.
Laminated, Dimensional, and Architectural Shingle Roofing Services
If you'd like to replace the older asphalt shingle roofing on your home with a more modern and aesthetically pleasing product, or something more durable with a much longer lifespan and warranty (up to 50 years) then dimensional or architectural shingles probably the best choice.  These shingles are more durable than an economically priced 3-tab asphalt shingle and come in a variety of different styles to replicate luxury roofing materials like slate, stone, cedar shake, and more.
Roofing Inspections
Has your roof suffered damage in a recent hail, wind, or rain storm?  Have you noticed your roof is all of a sudden leaking?  Do you have frequent ice dam problems during the winter and early spring?  Our roof inspectors are also certified installers for a variety of roofing shingles and we know and understand roofing systems inside and out.  If you have a complex problem with your roof one of our inspectors will be able to solve it for you and come up with a recommended plan to repair the problem once-and-for-all.
Roofing Repairs
If it's determined that your roof needs to be repaired rather than replaced we can offer those services too.  We can repair missing or damaged shingles, we can repair, replace, or install new roof flashing, roof ventilation, and we also offer new gutter and gutter protection installations too.  You can find the specifics on our roofing repair services here.
How Can You Hire Paragon Exteriors LLC For Your Roofing Services?
The first step is to contact us (262) 565-8282 for an inspection of your existing roof or an estimate for replacement.
Keeping Your Property Clean And Safe During A Roofing Project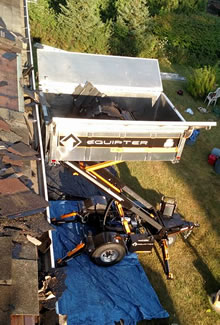 Be careful when you decide to hire your roofing contractor!  Many of the local roofers in Waukesha County are still roof tear-offs the old way and it can cause significant damage to your property.
If your roofing project is a total replacement of an existing roof then the old roofing material must be torn off and disposed of.  Many roofing companies will simply lay down large tarps over your lawn, landscape, and gardens and then they begin tossing the shingles down off the roof, some contactors may choose to use a dumpster bin that they try and throw all of the shingles into, but because the bin is stationary (and can't be moved closer to where they are working) there are often materials thrown all over your property.
Paragon Exteriors LLC does our roof tear-offs a little bit differently than most.  We've invested in a professional piece of equipment called the "Equipter" and it's a mobile dump trailer on wheels that actually raises the dump box to the same level as your roof (on most 1 and 2 story homes).  This allows our roofing crews to remove and dispose of your old shingles without tossing them all over your yard or causing damage to your grounds.  This saves our crews time and keeps your property clean and free from debris that is common to roofing projects such as pieces of shingles, and even worse, roofing nails!
We know you've probably taken great care of your yard and when you choose Paragon Exteriors LLC we'll protect it as if it were our own.  After a roofing project is complete we also use a magnetic roller to clean-up any nails that may have fallen to the ground and we'll even clean out the gutters of any debris from installing your new roof too.
Why Choose Paragon Exteriors LLC For Your Waukesha County Roofing Project?
If you need roofing services in Waukesha County Wisconsin then Paragon Exteriors LLC should be your first choice!  As a top rated local roofing company we've replaced and repaired the roofing systems on hundreds of homes throughout Waukesha County since our humble beginnings in 2010.  You can count on excellent communication, excellent customer service, a clean job site, a price match guarantee, and our unbeatable 10 year workmanship warranty on our installations in addition to the manufacturers warranty for the specific shingles we install for you.
From a complete roofing replacement to an upgrade of roofing materials, roofing inspections, and repairs, we're you're one-stop roofing shop in Waukesha County.
If you'd like to schedule an appointment to provide an estimate for roofing services on your home or building please call (262) 565-8282 or fill out our online contact form and we'll get right back to you.