Roof Replacement In Waukesha and Waukesha County, Wisconsin.
If You're In These Areas Searching For A "Roofer Near Me" We Can Help!
If you're planning on replacing your roof this spring or summer you've come to the right place!  This page will answer the most commons questions about roof replacement in Waukesha.  Whether you're looking to replace your roof with 3 tab asphalt shingles as an economical choice or you'd like to replace your roof with more durable and decorative laminated or architectural shingles, you'll find great information here.
Roof replacement in Waukesha is an important home improvement project and there is actually a ton of work and detail that goes into a proper roof replacement.  Let this page guide you through the roof replacement process including costs, components, and more.
Paragon Exteriors LLC is a full service roofing contractor specializing in asphalt shingle and laminate or architectural shingle roofing systems.  We are experts at roof replacement in Waukesha.  We are also factory certified installers for the best roofing shingles from Owens Corning, CertainTeed, and GAF.
At Paragon Exteriors we employ a price match guarantee so you'll never overpay for your roof replacement in Waukesha.  When the roofing shingles are the same product, installed to the same exacting manufacturer specifications by a certified roofer, why on earth would you want to pay thousands more?  If you're looking for the best deal on roof replacement in Waukesha, you'll be glad you've found out website.
On this page we're going to explain everything you'll need to know about roof replacement in Waukesha County.  What it costs to replace your roof, what factors contribute to the cost of your new roof, and how to choose the best roofing contractor to complete your roof replacement.
*Our Roof Replacement in Waukesha Price Match Guarantee - We guarantee to meet or even beat any roof replacement estimate so long as the estimate comes from another licensed, insured, and factory certified roofing contractor.  You won't find a better price for roof replacement in Waukesha.
What Our Roof Replacement Customers Say...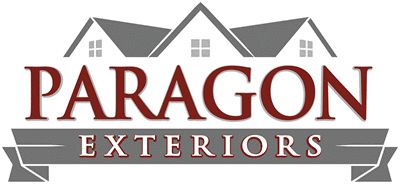 We take customer satisfaction seriously and it shows in the number of raving reviews we have and our 99% satisfaction rating with Trust Pilot.  We do everything in our power to ensure your satisfaction with your roof replacement in Waukesha.
Roof Replacement In Waukesha Pricing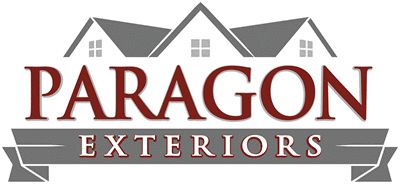 Your roof is arguably the most important component of your home.  It protects your home, your belongings, and your loved ones from the elements.  We believe in being transparent with our pricing so that our potential clients know exactly what to expect when having your roof replacement in Waukesha completed by a team of professionals.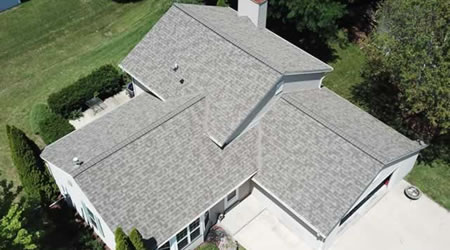 This is based on roof square footage area of around 2000 to 2500 Square feet.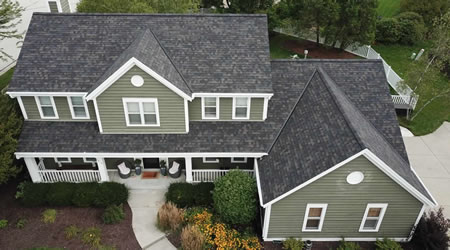 This is based on roof square footage area of around 2500 – 3000 square feet.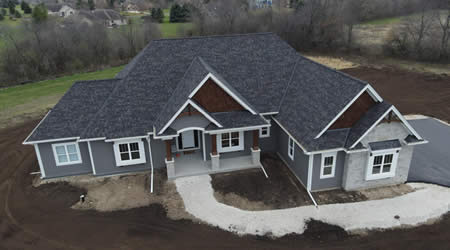 This is based on roof square footage of around 3000 to 3500 square feet.
Our Roofing Quotes Include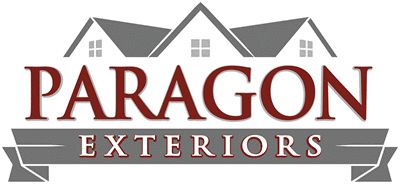 When it comes to roof replacement in Waukesha, we do it right!  Here is what our pricing includes with every roof replacement.
*We re-fasten any loose sheathing, inspect and replace wood decking if necessary.

These prices are only ball park figures to give you a rough idea as to what you should expect for the cost of roof replacement in Waukesha.  Your particular roofing project may vary depending on site accessibility, the specific materials chosen, and the overall scope of work.  If you need a firm price please request a consultation so we can view your potential project and determine the actual scope of work required to properly replace your roof.  After our on-site consultation we'll be able to provide you with a firm estimate to install your new roof the right way.  Don't trust your roof replacement in Waukesha to any other company!
What Drives The Cost Of Roof Replacement In Waukesha?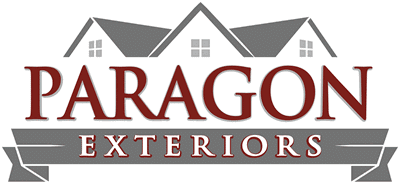 What's It Cost For Roof Replacement in Waukesha?  Well, that's a difficult question to answer without knowing the specifics about your home.  The size of your home, the pitch of the roof, the specific roofing materials, complexity, and extra add-ons, all contribute to the price of a new roof.  This will guide will hopefully explain the cost variables a little better.
Our Price Match Guarantee:  With Paragon Exteriors LLC you can have the peace of mind knowing that you're never going to overpay for your roof replacement in Waukesha.  We will match ANY roofing quote from any other licensed, insured, and factory certified roofing contractor.  In order for a roof to be factory certified it must be installed to meet specific standards.  ALL of our roof replacements meet or exceed manufacturers specifications so you can qualify for the full warranty.  If the roofing shingles and installation are the same, why on earth would you want to pay more?  With our price match guarantee you can have confidence knowing you've got an excellent deal on your roof replacement in Waukesha.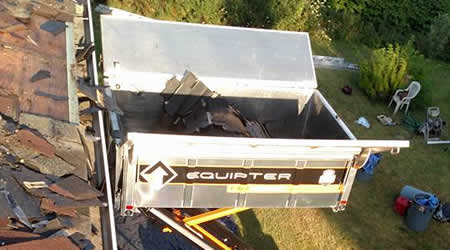 Tear-Off & Disposal
Our first step is tearing off and disposing of your old roofing which is a big part of the project.  This allows to inspect and replace any rotted wood decking as necessary and lets us offer the full manufacturer 50 year non-prorated warranty.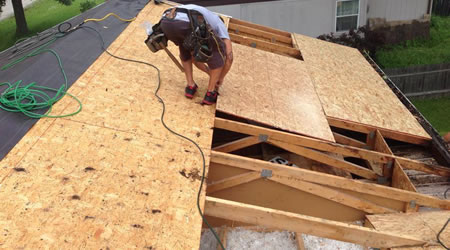 Roof Decking
After tearing off your old shingles the roof decking must be inspected.  In many cases, it's totally fine.  Sometimes, however there are sections of roof decking that will need to be replaced.  If your roof was leaking, your roof decking could be rotten.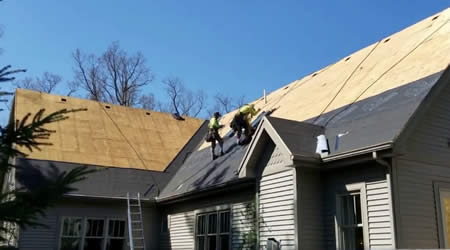 Ice and Water Shield
Ice and water shield runs along the outer edges and valleys of your roof or anywhere the roof meets a wall.  This is an essential addition for your roof to protect against ice dams and wind driven rain.  Make sure your roofer is including this!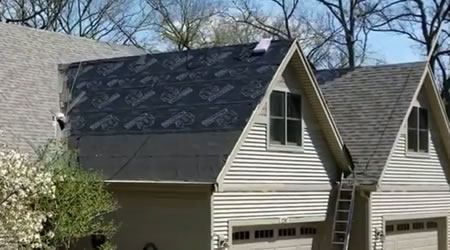 Synthetic Underlayment

Otherwise known as roofing felt.  This important layer provides extra protection against leaks and wind driven rain from getting up underneath your shingles.  There are different types and qualities of underlayment.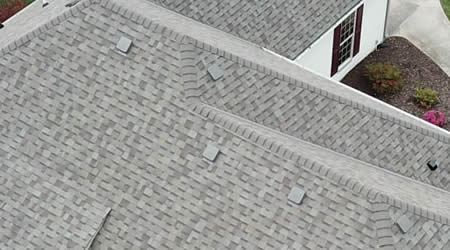 Roof Venting
Proper venting is critical to any new roof installation as it prevents condensation from forming within your attic.  If your roof doesn't have adequate ventilation we can install more ventilation for you during the roof replacement.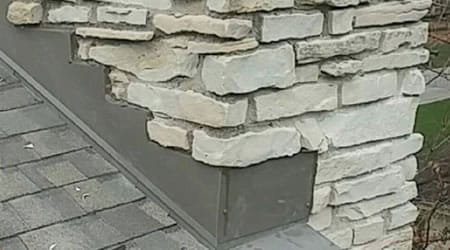 Flashing
Flashing is thin metal that is formed and installed to direct water away from critical areas of your roof.  Typically this is installed in valleys, walls, around chimneys, and vents.  Poorly installed or missing flashing is the cause of many roof leaks.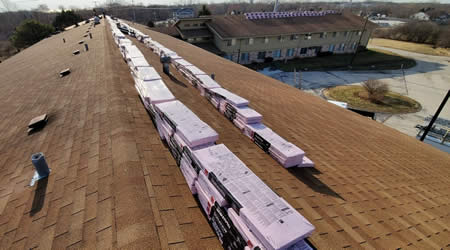 Shingles
Shingles are the final layer of your roof and they are the most expensive next to labor.  There are cheap options however we use what we know and trust which are most often Owens Corning Duration Architectural shingles.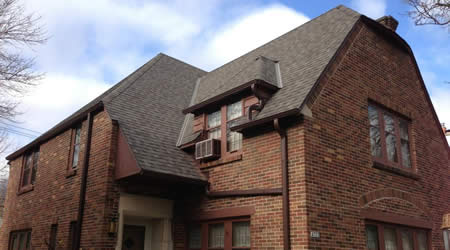 Roof Pitch
If your roof is "walkable" it makes replacement easier.  When your roof has a very steep pitch (steep slope) it can require additional equipment and safety measures to complete properly, thus increasing the price sometimes substantially.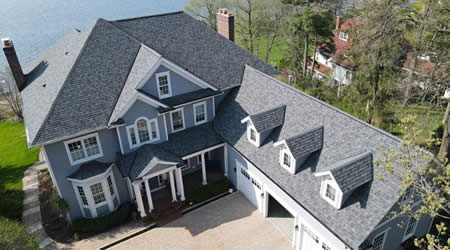 Warranty
Not all roofing warranties are created equal!  Depending on the shingles you choose and how they are installed there may be additional charges to have your roof fully protected with a non-pro rated warranty.  Ask your roofer for details.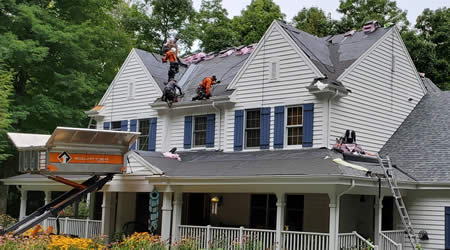 Labor
Labor is probably the biggest contributing factor to the cost of roof replacement in Waukesha.  We typically run a two to four man crew with our roofing projects.  Excellent craftsmanship is one of our hallmarks and we only employ the best!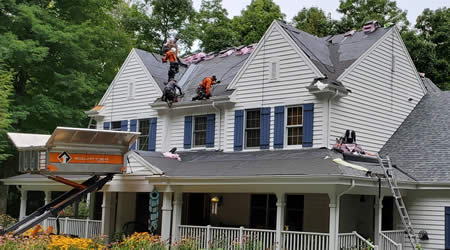 Drip Edge
A drip edge is a metal flashing that is fastened to the outer edge of your roof (over ice and water shield) that prevents water from getting behind your gutters and fascia.  This is another critical component to a properly installed roof.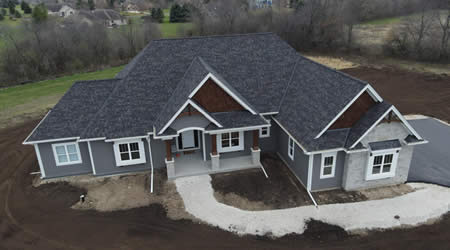 Insurance
If you're hiring a roofer to replace your roof then it's important they are properly insured.  We are properly licensed and insured in Wisconsin so you know that your property and our employees are always going to be protected.
Roof Replacement In Waukesha Projects We've Completed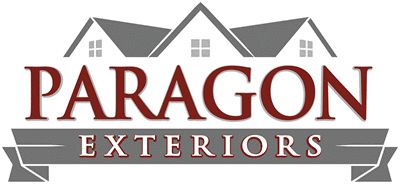 We've replaced hundreds of roofs in Waukesha and the surrounding areas in Waukesha County.
Many homeowners don't realize how dramatic of a difference a new roof makes.  When you hire Paragon Exteriors LLC for roof replacement in Waukesha you're going to see an amazing difference in your curb appeal and your home, loved ones, and possessions are going to be protected from the weather.  Have a look at the before and after photos below and see that difference for yourself!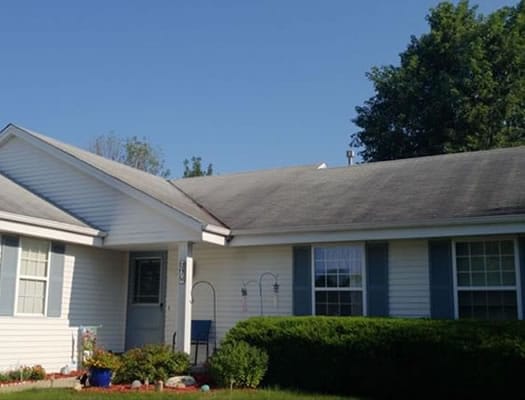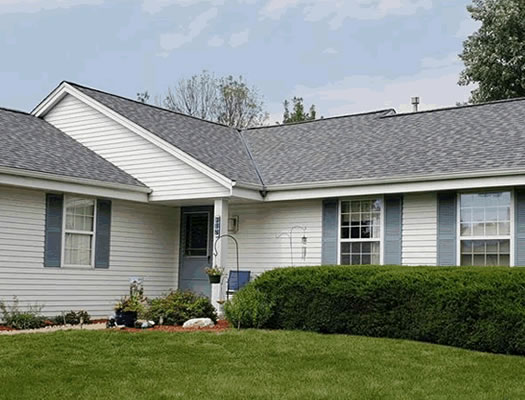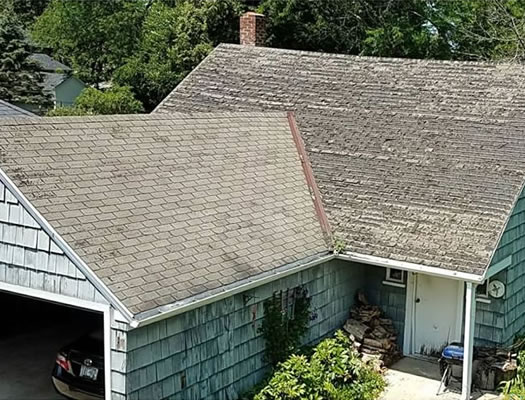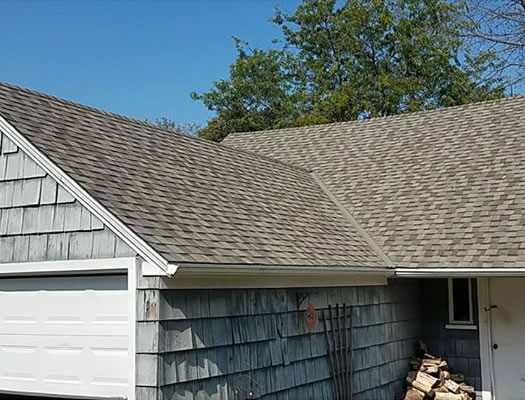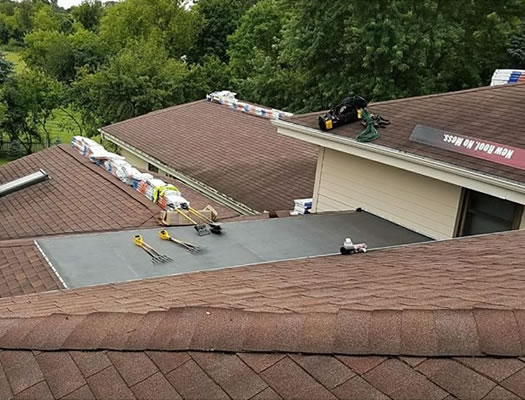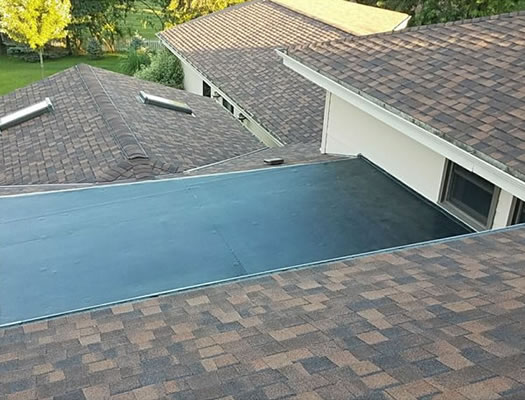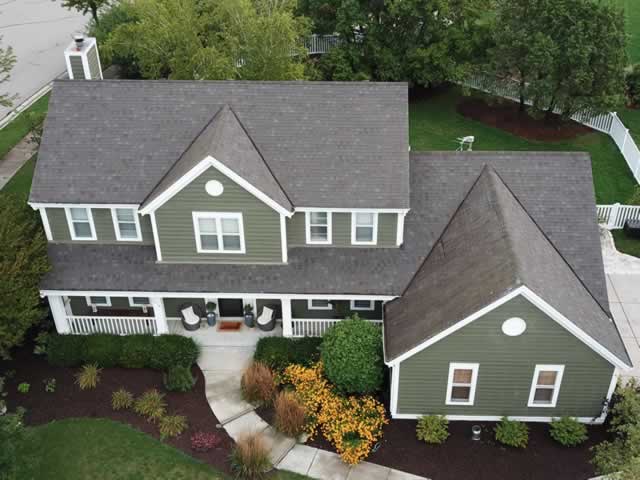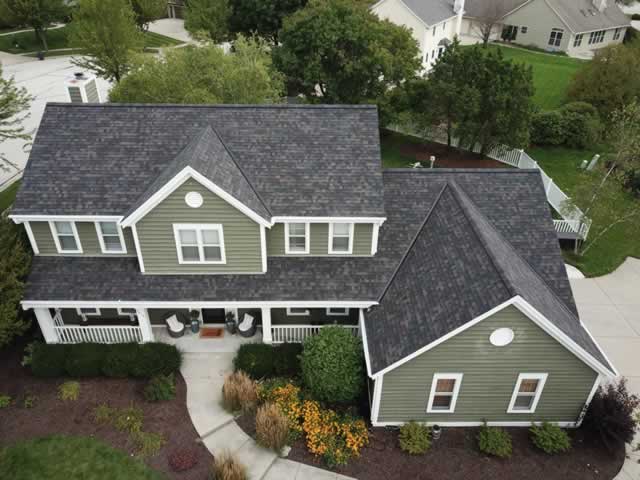 Owens Corning Duration in Black Sable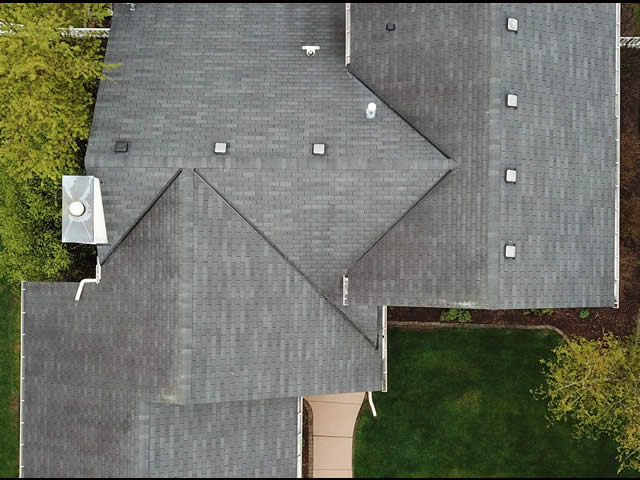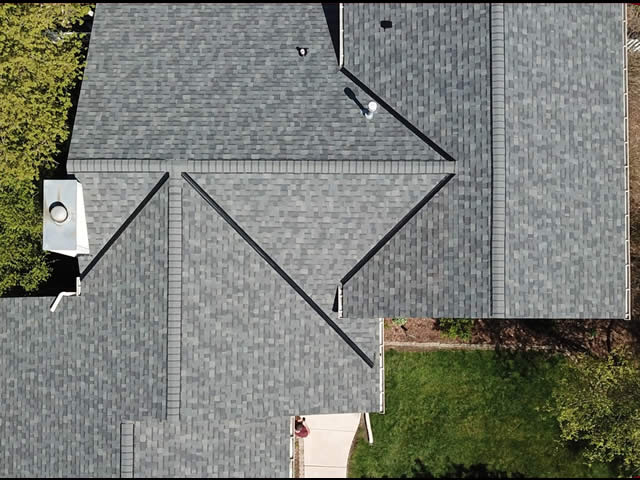 Owens Corning Duration in Estate Gray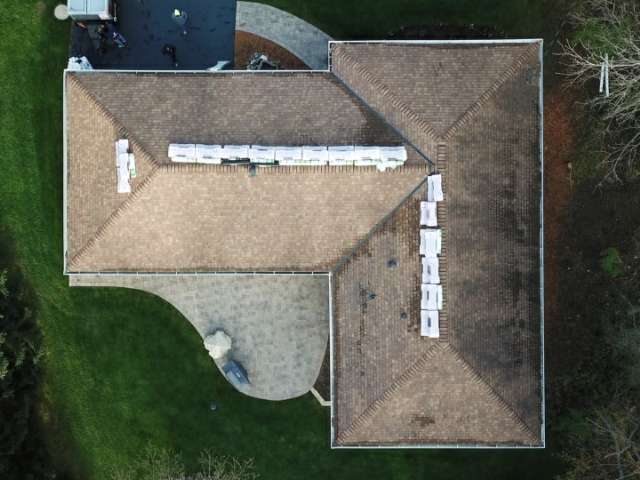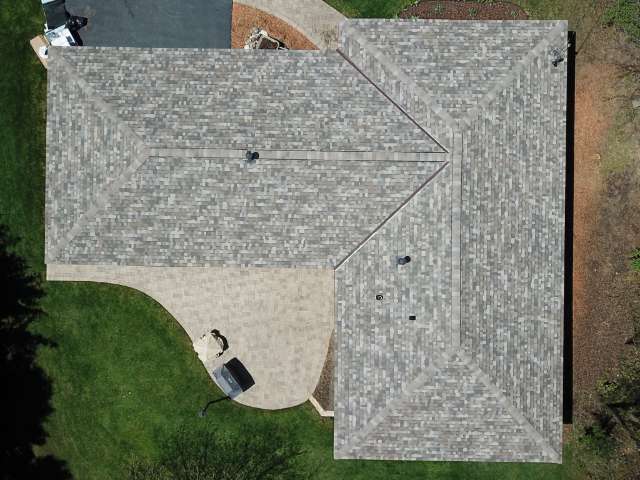 Owens Corning Duration in Sand Dune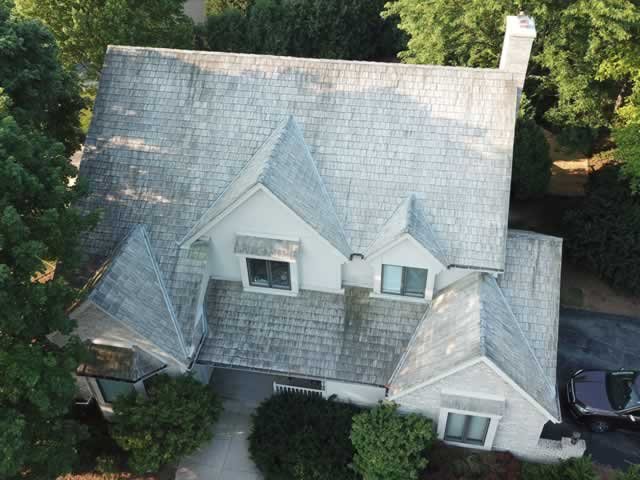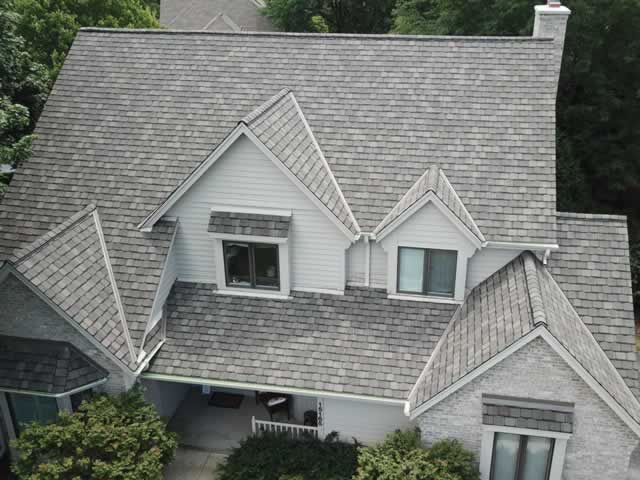 CertainTeed Grand Manor in Weatheredwood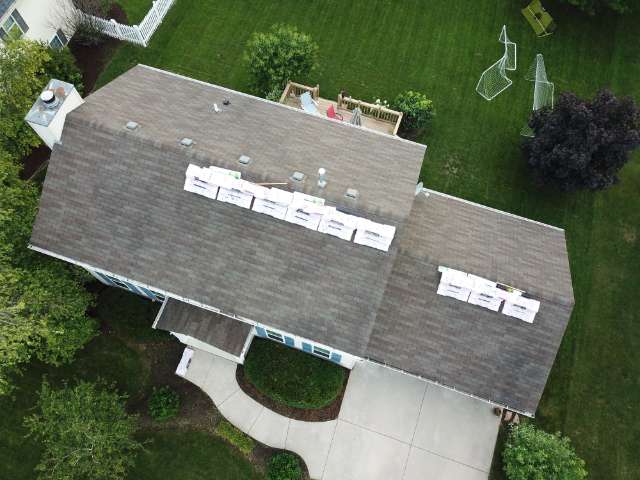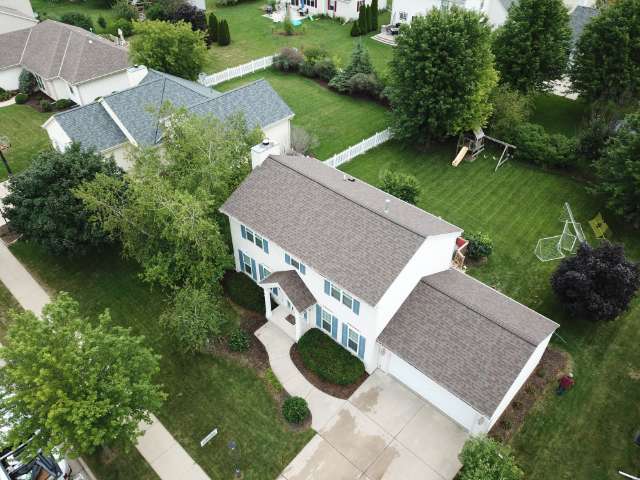 Owens Corning Duration in Teak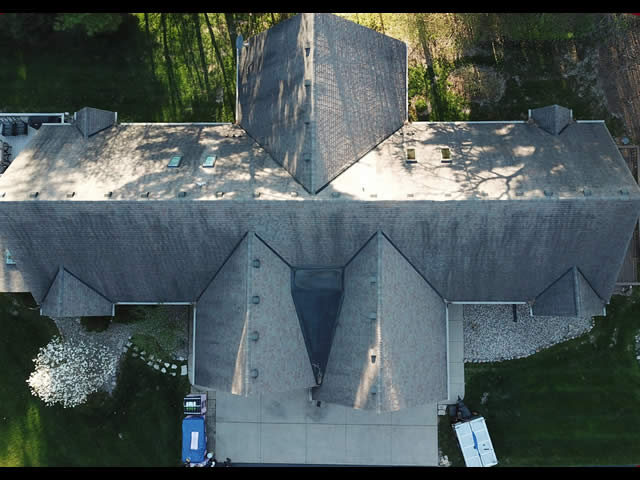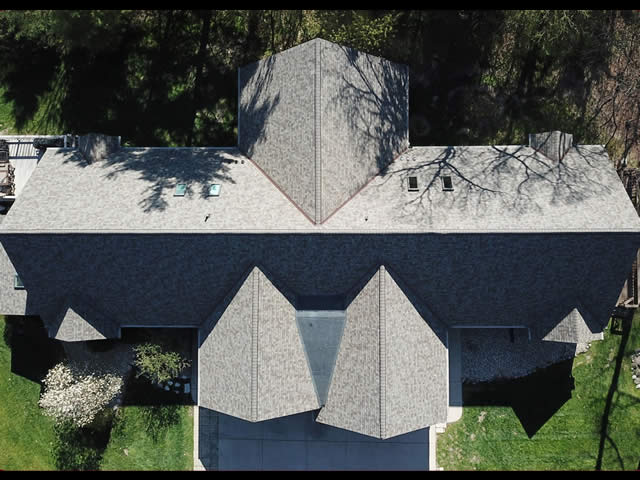 Massive 18,500 Square Foot Roof Replacement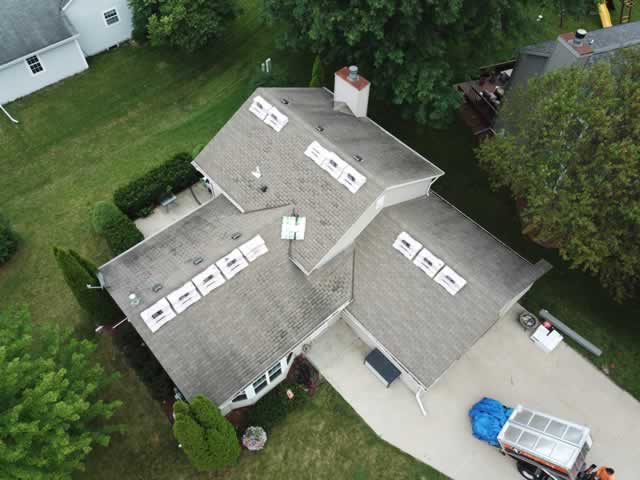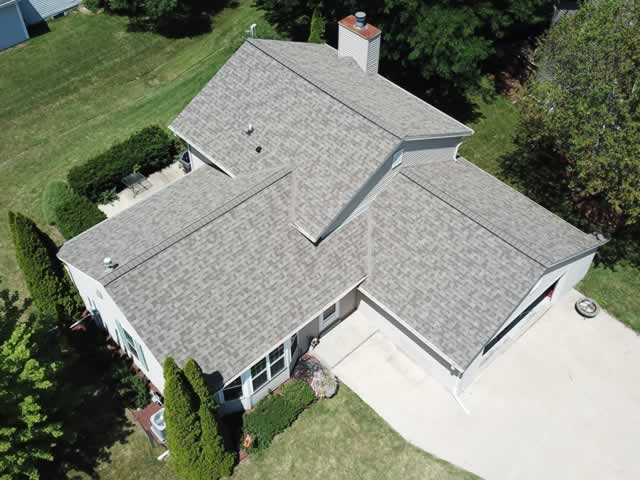 Owens Corning Duration in Driftwood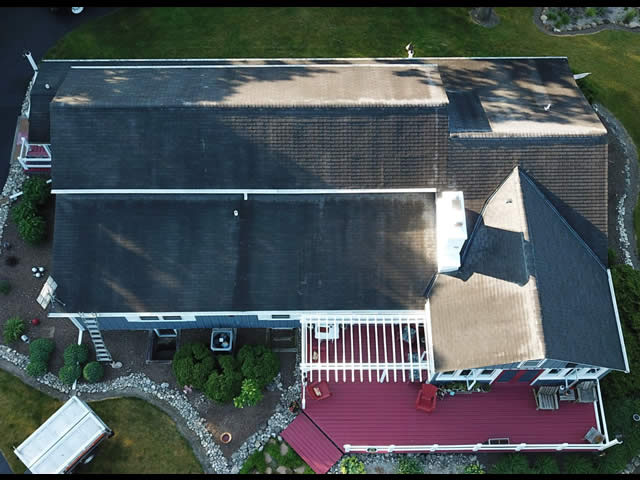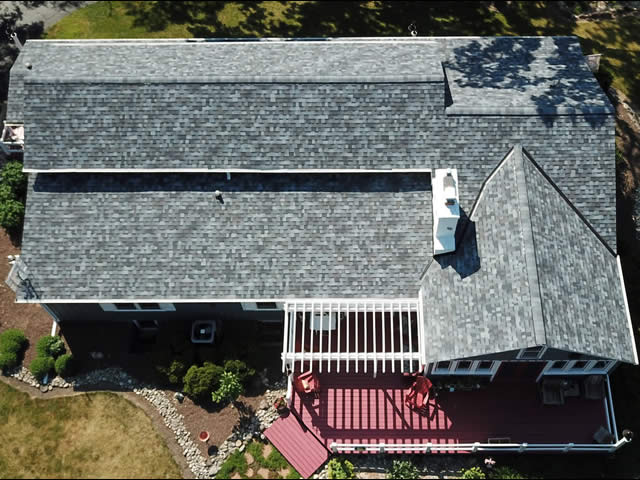 Owens Corning Duration in Pacific Wave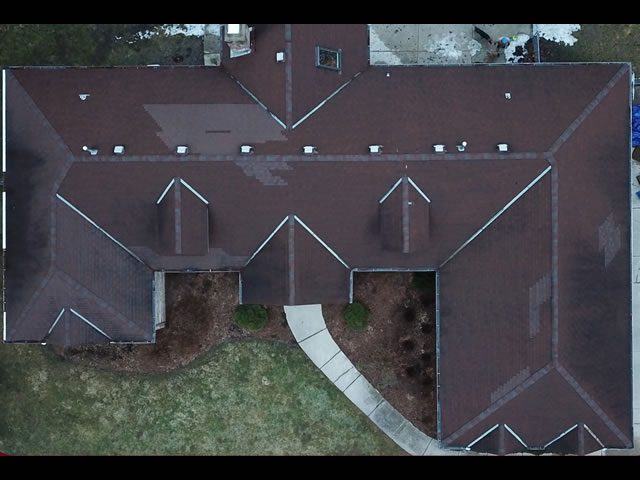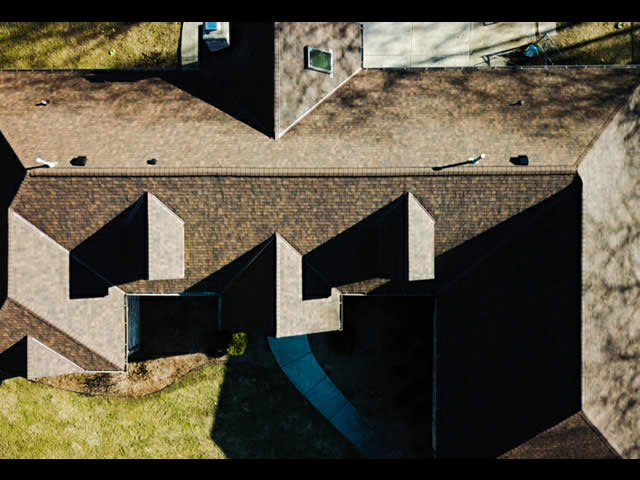 Owens Corning Duration in Brownwood
Choosing The Right Roofer For Roof Replacement In Waukesha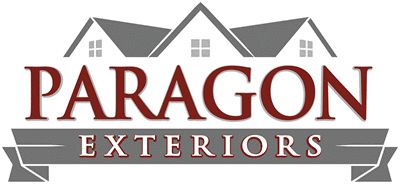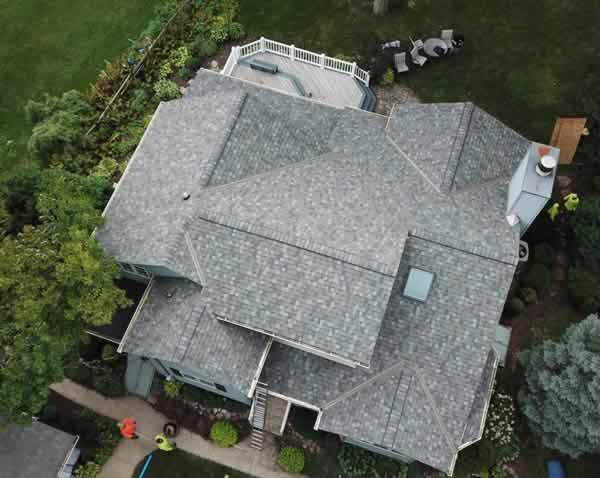 You Want To Replace Your Roof...?
There are literally hundreds of roofing contractors you could choose from for roof replacement in Waukesha.  They range from small one man handyman type contractors to very large companies with fleets of trucks, huge showrooms, and lots of overhead.
Somewhere in the middle is the contractor that's probably best suited for your roofing project.  Finding a roofing contractor you can trust to install your roof correctly and for the right price is your ultimate goal.
You're not hiring a roofer.  You're hiring someone to improve your home and protect everything within it.  It's an important distinction.
What Should You Consider?
It can be overwhelming trying to figure out who to hire for roof replacement in Waukesha.  To make things easier when trying to determine who the right contractor for your project is, start with these questions.
Do they specialize in roofing or is it one of many services they offer? If yes, how long have they been in business?
Do they have great reviews from other homeowners who've hired them to replace their roof?
Do they offer any type of workmanship warranty or after sales service if there is ever a problem with your roof?
Do they have many photos and references of the work they are capable of doing?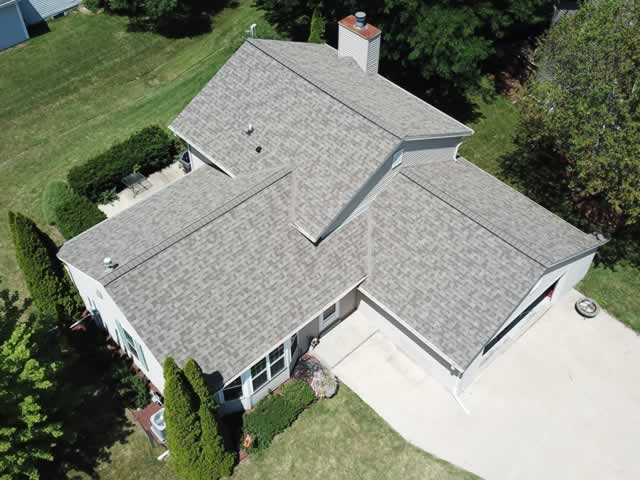 The Paragon Exteriors Approach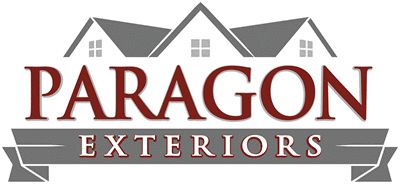 Request Your Roof Replacement Estimate

FREE Roof Replacement Estimate

If you'd like a a quick ball park estimate we can provide a rough price over the phone using satellite technology.  This is NOT a firm price but rather a rough estimate to give you an idea on cost.  For firm pricing we usually most do an "on-site" consultation, which is free as well.

Scheduling

If you decide to move forward with the project, we will sign the agreement and then we will put you onto our schedule.  We DO NOT ask for a deposit or any money up-front on any residential roofing jobs that aren't special order materials (majority aren't).

Your Scheduled Start Date

We'll show up on your scheduled start-date and get to work on replacing your roof!  Material delivery will be organized and we'll begin the roof replacement process.

Upon Project Completion

Upon completion of your new roof installation we do a final walk around and make sure nothing was missed. We schedule for extra materials to be picked up during this time frame as well.

Final Payment

Once the project is finished and our final walk-around complete, an invoice is provided to you.  Payment can be made by bank transfer, check, cash, credit card, or financing (if approved beforehand).

Enjoy Your New Roof!

With your new roof installed, it's time for you to sit back, relax, and never worry about your roof again!  We know you'll be thrilled with the work we do.  If there is any problems or you have questions, we are always happy to help our customers and we stand behind our work with a workmanship guarantee for as long as you own your home. If you're looking for roof replacement in Waukesha, you can't go wrong with Paragon!
Roofing Estimate Information
Our roofing estimates are fast, easy, and hassle free.  We aren't interested in high pressure sales tactics or wasting hours of your time.  In fact, many of our estimates can be completed using satellite technology!  If your roof is having issues like leaks or damage then it's generally preferred that we come and inspect the roof in-person.
Request Your Roofing Estimate
Fill Out The Details Below For An Accurate Quote