Roofing Company Serving New Berlin WI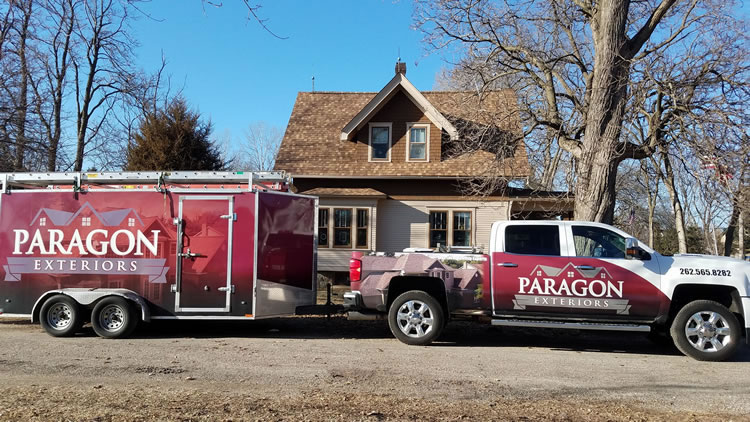 Searching For The Best Roofing Company In New Berlin?
Nobody Beats Paragon Exteriors On Pricing Or Quality Workmanship!
Roofing Contractors have lots of potential work in the city of New Berlin as it's the 2nd largest city within Waukesha County.  New Berlin experienced a growth spurt through the 60's and 70's and now is home to nearly 40,000 people.  The massive amount of homes built throughout the area in the 60's and 70's are now many decades old which means there are many New Berlin homeowners seeking the help of professional roofers on an annual basis.
Do you need to have a new roof installed on your New Berlin home?  Have you just purchased and moved into a new-to-you home in New Berlin that has an older roof and you are unsure if it's still in good shape?  Finding the right roofing company doesn't have to be hard.  If you are searching for a reliable roofer in New Berlin we're really glad you've just stumbled upon our website!
Paragon Exteriors LLC is one of the most trusted roofing companies serving the New Berlin area.  Started in 2010, Paragon Exteriors has installed new roofs on a few hundred homes in the New Berlin area.  Chances are good, you've already seen some of our clearly marked trucks and trailers in the area.
What makes Paragon Exteriors different in the sea of roofing companies serving New Berlin?  It's simple…  We don't employ high pressure sales tactics and we never try and sell our customers more than what they need.  Our customers trust our advice and they love our honesty and straight forwardness, we save them time and we save them money.
We respect our customers time and their wallets.  When you request an estimate through our website or via phone we're going to come to your property in one of our clearly marked Paragon Exteriors trucks and we're going to spend no longer than 30 Minutes of your time.
In that short window or roofing estimator will accurately measure the square of your roof (the units a roof is measured by), our estimator will take note of any special considerations for your particular property that might affect our labor prices, we'll show you the specific shingles we recommend based on your needs and your budget, we'll answer any questions you have about our process and timelines and when you're satisfied we can provide you with a written estimate for your new roof.
Some Of Our New Berlin Roofing Projects
Professional Roofing Services in New Berlin
Roof tear-off and replacement on older homes
Roof tear-off and replacement on heritage homes
Asphalt shingle roofing replacement
New roofing for new construction projects
New roofing for shops and detached garages
Condo and townhouse roofing services
Dimensional shingle installations
Storm damaged roof inspections and repairs
Leaky roof repair services
Roofing loans and financing available
Roofing Loans And Financing – Don't Wait For Your Roof
If you need a new roof now but don't have the money saved up, don't sweat it!  Paragon Exteriors offers roofing loans and financing through big name banks and financial institutions.  Our roof financing programs are generally easy-to-qualify for if you have decent credit and the interest rates are very competitive (as low as 0% in some cases).  For many of our customers replacing a roof isn't an expense they've had time to plan and budget for and for others they may wish to keep their cash in higher interest investments and take advantage of the low-rate financing.  Whichever way works best for you is what works best for us!
Roof Replacement Financing Options
1 year same as cash.  (0% interest waived if paid within 1 year)
Fixed 60 Month.  (60 equal payments)
If you are interested in financing your new roof with a roofing loan please call us to schedule a quote and get our current rates and any special offers that might be available.  In most cases we can have your approval on the same day, sometimes within just a few hours!
Don't Fall For Roofing Shingle Or Labor Discounts That Sound Too Good To Be True!
We've seen it all when it comes to roofing material discounts or discounts on the labor to install them.  If a roofing manufacturer is offering material discounts that's one thing but when a roofing contractor is offering steep discounts, it's an entirely different animal because the contractor has to make those lost margins somewhere.  We've even seen local roofers offering 50% discount on their labor to install the roof.  You have to ask yourself… If you were a roofer working for one of these companies would you take a 50% pay-cut?  It'a highly unlikely so that margin must be made up somewhere and it's usually from your wallet.  While the labor might be steeply discount, the shingles will probably be more expensive to make up the difference.
An average homeowner might replace their roof once or twice in their lifetime so most roofers don't expect their customers to be experts on these pricing games.  Don't be afraid to double check an estimate as you might be surprised at how expensive these games can actually be for the consumer!
Our Paragon Exteriors Pricing Promise:  We will meet or beat ANY competitors pricing for the same roofing products we sell so long as they are the same shingle type being installed by a factory certified professional.  If we can't beat the price, we'll match it and if we can't match it, we'll explain the difference between our estimate and theirs so you have a fair comparison to base your decision on.  We're confident that nobody beats Paragon on price or installation quality.
Roofing Shingles Options For Every Taste And Budget
Your roof doesn't have to be boring and it doesn't have to break the bank either.  We have great shingle choices for almost every budget and can provide you with "good, better and best" options that will meet your roofing needs.  With so many different shingle choices available we only sell and install roofing shingles from the most trusted manufacturers such as CertainTeed, GAF/Elk, and Owens Corning.  We choose these products because of their outstanding quality, backed by unbeatable warranties.
CertainTeed Landmark Pro
Owens Corning Duration Shingles
Don't Hire A Roofer Without Asking About Their Warranty
Most reputable roofing companies will honor the manufacturers warranty for the roofing shingles they sell but at Paragon Exteriors we take that a few steps further.  We offer an unbeatable workmanship warranty as well.  For 10 years after the date of your roof replacement and as long as you own the home we'll repair any problems with our workmanship.  If there is ever a problem with the way we've installed your new roofing system just let us know and we'll come fix it as soon as possible.  We're very confident in our installations and we know the chances of a call back are very slim, that's why we can make such a bold promise.
Paragon Exteriors LLC is a locally owned and operated company that specializes in nothing but roofing.  We care about our local reputation in the community we live and work in, it's everything to us.  Our team has taken the time to take factory certified training so we are experts in the products we install for our customers.  We are a certified Select Shingle Master by CertainTeed, and also a certified GAF Weather Stopper contractor.  These certifications aren't easy to obtain and many roofers in New Berlin are not factory certified, hire them at your own risk.
Our Roofing Replacement and Installation Warranty
Lifetime shingle warranty (

Read CertainTeed Shingle Warranty

)

10 year "SureStart" non pro-rated warranty

Lifetime guarantee on our workmanship

Free annual roof inspections for the duration you own the home
It's the little details that go into your roof installation that make a difference in how your roof will perform over the next few decades or even in the first really intense rain, wind, or hail storm.  Our professionally trained and industry certified roofing tradesman understand the important synergy between your roof and it's underlying components.
When we install a roof that qualifies for the maximum available manufacturers warranty it's because we've inspected your roof decking and we've used the right water barrier and underlay, we installed proper ventilation if it was required, we use extra fasteners on your shingles for extra strength, and we also would have installed proper flashing around chimneys, windows or dormers.
The difference between a Paragon Exteriors LLC roofing project and a roofer who doesn't care could be thousands of dollars in future home repairs or lost home value due to poor roof performance.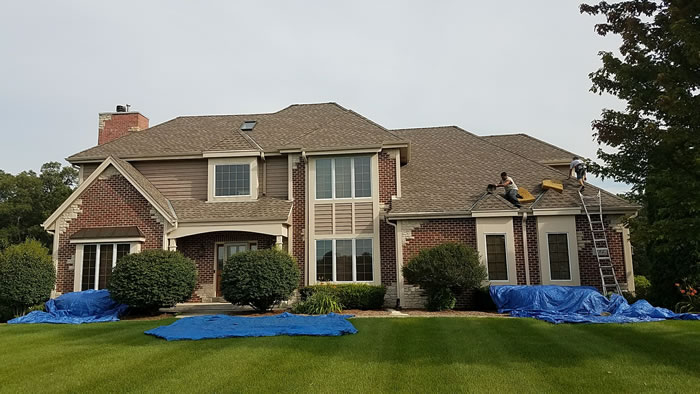 New Berlin Roofing Inspection Services
Does your home suffer from ice dams in the winter and early spring?  Have your roofing shingles been damaged in a recent wind, rain, or hail storm?  Have you discovered a roof leak on the inside of your home but you can't find where it's coming from?  Roofing inspections by a knowledgeable professional can save property owners substantial amounts of money if problems are caught early.
Paragon Exteriors LLC offers detailed roofing inspections and written reports for private homeowners, residential development managers, HOA managers and insurance companies.  Our experienced and professional team will be able to carefully inspect your roofing for damage or areas where water could be entering your structure.  Water can take strange and long pathways once it gets inside your home.  The sooner the problem is discovered the less damage will be done.  
Typically with water damage issues from a leaky roof an insurance company won't honor the claim if there is mold involved.  To an insurance company the presence of mold means that the problem has been there a while and has been allowed to develop into something much bigger.  Mold is where most insurance companies will draw the line with respect to water damage so if you suspect your home is suffering from water damage due to a roofing problem it needs immediate attention.
Our roofing inspectors are looking for items such as:
Pre-mature shingle failure and granule loss

Clogged or poorly installed gutters

Missing or poorly installed roof flashing

Hail, wind or storm damage to shingles

Proper roofing ventilation

Adequate attic insulation

Rotten or damaged roof decking
Roofing Repair Services
One of the most obvious reasons our clients will phone us with a roof repair issue is because they've discovered a leak!  If your roof is leaking then you definitely need a professional to inspect your roofing to see where the problem might be.
Please Take Note:
 Our roof repair prices start at a modest $295.00. This includes one trip to inspect the problem, a trip to the supply store to gather all the necessary material (remember there are hundreds of different roofing materials making it impossible to carry all the material we need with us) and then a trip back to your property and approximately one hour worth of work on the problem.
Any potential further costs will be addressed at the time of our initial meeting.
Paragon Exteriors has experience working with insurance companies and can make the process as painless as possible for you.  We understand the paperwork process and we can provide detailed, written reports on the condition of your roof and our roofing inspectors are familiar with the process of working with your adjuster to make sure your roof is repaired the right way.
Caring About Your Property During A Roofing Project

Watch How Paragon Exteriors Cleanly Removes This Shingle Roof – With NO Mess!
If you take pride in your property and value your lawn and landscape always ask your roofing contractor how they plan on handling all the debris from your roof tear-off.  Many roofing companies just throw a tarp or two out over your lawn and garden areas and start throwing torn-off shingles down.  Shingles are heavy!  An old roof on an average sized home can weigh several thousand pounds and those shingles being thrown onto your lawn and landscape can cause serious damage!
Paragon Exteriors uses a special piece of machinery called "The Equipter" for our roofing tear-off projects.  The Equipter is a portable dumping trailer that can safely and nimbly navigate your lawn and landscape.  The coolest part about this machine is that it's a dumping trailer that LIFTS UP to the same level as your roof.  This means we can safely position the Equipter next to your home and dispose of your old roofing without leaving any mess or damaging your landscape.
Why Choose Paragon Exteriors LLC For Your Roof Replacement, Installation or Repair in New Berlin?
When you choose to work with Paragon Exteriors for your roofing project you are partnering with industry professionals who take your commitment to your home seriously.  We'll show up when we say we will, we'll make every effort to protect your property and keep it clean, we'll provide you with the best roofing installation possible, and for a fair price too!
We rely on word-of-mouth advertising and our positive online reviews to drive customers to our business.  We take the hassles and stress out of your roofing replacement or installation.
If you'd like to receive an estimate for your roofing project please call 262-565-8282 or fill out our contact form and we'll get right back to you.
Paragon Exteriors LLC Completed Roofing Projects in New Berlin WI
[sites4projects width="1″ type="city" value="New Berlin" zoom="11″ ratingvalue="" reviewcount="" ratingcount=""]