Roofing Company Serving Mukwonago WI
[sites4projects width="1″ type="city" value="Mukwonago" zoom="11″ ratingvalue="" reviewcount="" ratingcount=""]
The Roofing Company With A Heart Serving Mukwonago WI
Great Pricing, Great Communication, And An Unbeatable Roof Warranty
The village of Mukwonago derived it's name from the native american"mequanego" which actually translates to bear's den. The current day spelling of "Mukwonago" was adopted in 1844 because of the similarity to the nearby city of Mequon.  The area is rich in history and local lore and the area is currently home to a little over 2900 households.  With so many households in the area, many of which are older homes built through the 50's into present day there are many homes in need of a good roofer.
Paragon Exteriors LLC is a local roofing company serving the Mukwonago area.  In business since 2010 Paragon Exteriors LLC is one of the most highly reviewed roofing companies offering services in the area.  We work extremely hard for 110% customer satisfaction in every roofing project we complete.  One of the qualities that make us so popular with homeowners is that we donm't employ any high pressure sales tactics so common in the roofing industry.
We're extremely proud to offer our 30 minute roofing quotes to Mukwonago homeowners who just don't have the time, energy or will-power to listen to a long drawn out sales pitch from a roofing salesman that is designed to separate you from more money than your roof should actually cost you!
When you request an estimate through our website or call us (262) 565-8282 to schedule an estimate we're going to come to your property in one of our clearly marked Paragon Exteriors trucks and we promise to spend no longer than 30 Minutes of your time.
During one of our signature estimates our estimator will climb up and accurately measure your roof, in some cases we can actually get the measurements using satellite estimating technology.  We will take the time to take special notes for any unique considerations for your particular property such as how easy access will be for our roofing crew.  After we've taken accurate measurements of the roof we'll take some time to show you the products we recommend for your roof and your budget.  We can answer any questions you might have about the process and then we can provide you with a written estimate to complete the work.  Then we'll hop in our truck and get out of your hair until you call us back to roof your home!
Paragon Exteriors LLC Roofing Projects in Mukwonago WI
Our Mukwonago Roofing Services Include:
Roofing inspections after hail or rain storms
Roofing multi-family structures such as condos or townhomes

Roof tear-off and replacement on historic or heritage homes

New roofing installations for new construction projects
Roof installations on new shops or garages

New asphalt shingle installations and replacement

Architectural shingle installations and replacement

Complete roof repair services including ice dam prevention and repair
We Offer Competitive Roof Financing For Mukwonago Homeowners
Often a roof replacement isn't a purchase that a homeowner has had time to plan or save up for.  If your roof replacement isn't being covered by insurance due to a damage claim then it's likely got to coem out the homeowners pocket.  This can put a strain on most families bank accounts and in some cases, makes a new roof unreachable, even though it's probably badly needed to protect your home, it's contents, and your family.
For these situations Paragon Exteriors is proud of our easy-to-qualify for and competitive
roof financing
programs.  If you need to have a new roof installed on your home but you just can't afford to slap all that money down in one payment then financing your roof can be a very attractive option.  In most cases we can have an approval ready-to-go before we've left your property!
Our Mukwonago Roof Replacement Financing Programs
1 year same as cash.  (0% interest waived if paid within 1 year)
Fixed 60 Month.  (60 equal payments)
If financing your new roof is the route you'd like to take please call us (262) 565-8282 to schedule your quote and to get our current rates or take advantage of any special offers or promotions that might be going on.  A new roof doesn't have to be out-of-reach, especially when you're dealing with the Paragon team.
Why Are Some Roofing Estimates So Much Cheaper Than Others?
There are literally dozens of other roofing companies that operate in Mukwonago and the surrounding area and many of them are offering prices that seem too good to be true.  Often they will be advertising deep discounts on their choice of roofing materials.  Considering most homeowners are not roofing experts, these deals can be very attractive but it's important to understand that any company offering deep discounts on roofing shingles has usually falsely inflated the price of the shingles from the get-go so their deep discount might actually be full price!
There are many marketing tricks and sale gimmicks that fly-by-night roofers will use when it comes to getting a homeowner to sign on the dotted line.  Don't ever be afraid to get more than one estimate for your roof, as it could literally save you thousands of dollars!
Paragon Exteriors LLC offers this pricing promise:  We promise to meet or beat ANY of our competitors pricing for the roofing shingles we sell so long as the estimate we are meeting or beating is from a professional company and the roof is being installed by factory certified professionals.  If we can't beat their price, we'll match it and if we can't match it, we'll take the time to explain the difference between our estimate and theirs so you can compare apples-to-apples.  Nobody beats Paragon on price, quality, or warranty when it comes to replacing or installing a residential roof in Mukwonago.
Roofing Shingle Options For All Design Tastes and Budgets
Your roofing can make a statement if you'd like it too and there is no reason that you can't have one of the best looking roofs on your street.  At Paragon Exteriors LLC we provide our customers with roofing shingle options that meet your budget and in a variety of different styles and even different textures if you'd like a designer shingle.  Our roofing crews are factory trained and certified installers for CertainTeed, GAF and Owens Corning.  We believe in installing trusted products from some of the oldest roofing shingle manufacturers in the business.  Depending on your budget, roof pitch and design taste, we'll help you choose the perfect shingles for your new roof that will compliment the look of your home and fit within your budget.
CertainTeed Landmark Pro
Owens Corning Duration Shingles
Roof Replacement With An Unbeatable Workmanship Warranty
Your new roof is only as good as the company that installed it and the manufacturers commitment to stand behind their shingles should there ever be an issue related to materials or the workmanship of the installation.
Because we are factory trained and certified Paragon Exteriors LLC is proud to offer our customers a rock-solid roofing warranty.  For 10 years after the date of your roof replacement and as long as you own the home we've installed a new roofing system on we'll come back and fix anything related to our workmanship.  If there is ever a problem, just call us up and we'll come out as soon as we can to inspect and fix the problem.  We are that confident in the quality of our installations that we are willing to stand behind them with a bold promise.
There are many roofing companies that offer cheaper pricing but they won't stand behind their installations like we do.  Peace of mind is important for our customers and a quality roof installed by a quality crew is a long-term investment in the security of your home.  We care deeply about our local reputation in the communities we live and work in.
We are an Owens Corning Preferred Contractor, a certified Select Shingle Master by CertainTeed, and also a certified GAF Weather Stopper contractor.  You can rest assured knowing the quality of your roofing installation will meet or exceed the manufacturers recommendations for their particular shingles.
Our Roofing Replacement and Installation Warranty
Lifetime shingle warranty (

Read CertainTeed Shingle Warranty

)

10 year "SureStart" non pro-rated warranty

50 year non pro-rated warranty (available for select shingle types)

Paragon Exteriors LLC lifetime guarantee on our workmanship

We offer you free annual roof inspections for the duration you own the home
There are so many little details that go into your roof replacement or new roof installation that make a difference in how your roof will stand up to the elements over the next few decades.  Roofing companies running around with a truck and a ladder who offer rock bottom pricing often count on not being around when a problem occurs with the roof.
Our professionally trained and industry certified roofers understand the important synergy between your roof and all of it's underlying components.  When we install a new roof that qualifies for the maximum available manufacturers warranty it's because we've inspected your roof decking and we've used the right water barrier and underlay, we've installed proper ventilation if it was required, we use extra fasteners on your shingles for extra strength, we use the right ridge caps, and we also would have installed proper flashing around chimneys, windows or dormers to keep the water from entering your home.
The difference between a Paragon Exteriors LLC completed roofing project and a roofer who doesn't care could be thousands of dollars in future home repairs or lost home value due to poor roof performance.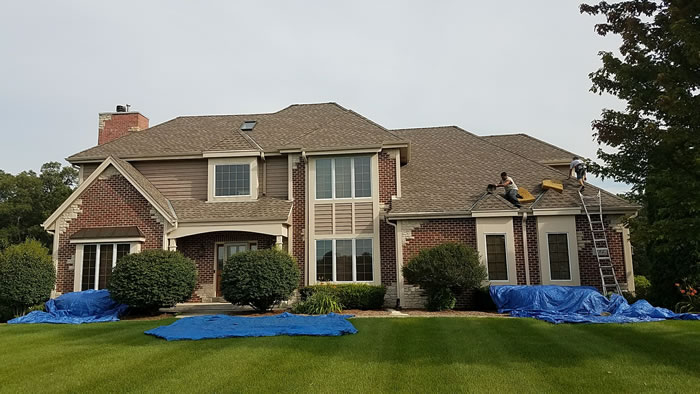 Roofing Inspections After Rain & Hail Storms
Mukwonago gets approximately 35 inches of rain, on average, per year and around 43 inches of snow per year.  This is enough rough weather to put any roofing system to the ultimate test.  If your roof has begun leaking after a recent rain or hail storm or you notice damaged shingles it's time to call the pro's for a roofing inspection.
Roof leaks, ice dams, missing shingles, hail damaged shingles, are all roofing problems that can be spotted and usually solved with a trained eye and a little bit of knowledge on how the problem occurred in the first place.  Most often roofing problems are related to a poorly completed installation rather than a failure of the roofing shingle.
Paragon Exteriors LLC offers detailed roofing inspections and written reports for homeowners, residential development managers, HOA managers and insurance companies.  Our experienced and professional roof inspector will be able to carefully inspect your roofing for damage or troublesome areas where water could be entering your structure due to leaks or from the occurrence of ice dams.
Often a big problem facing homeowners with roof leaks is that the location of the leak won't always be very obvious.  When water has entered a structure and manifests as a leak through a ceiling or wetness in your walls it can be tough to tell what pathway the water took to get there!  Once inside a home water can take very strange pathways.  What can make the situation worse is that water damage issues from a leaky roof are often not something a home insurance company will honor if the problem isn't solved very quickly.
To an insurance company the presence of any mold means that the problem has likely been there a while and it's been allowed to develop into a much bigger (more expensive) problem.  Mold in your structure is where most insurance companies will draw the line with respect to water damage from a leaky roof so if you suspect your home is suffering from water damage due to a roofing problem it needs immediate attention from a pro.
Our roofing inspectors are looking for items such as:
Pre-mature shingle failure and granule loss

Clogged or poorly installed gutters

Missing or poorly installed roof flashing

Hail, wind or storm damage to shingles

Proper roofing ventilation

Adequate attic insulation

Rotten or damaged roof decking
Roof Repairs For Mukwonago WI Homeowners
If you've discovered a leak in your roof, you have an ice dam you cannot control, or you've noticed other problems or damage to your roof that needs repair, we can help.  Paragon Exteriors LLC offers complete roofing repair services for Mukwonago homeowners.  Whether it's for a private residence or a large multi-family structure like a townhome or a condo we'll be able to help you with your roofing repairs.
Our Mukwonago Roof Repair Policy:
 Our roof repair prices start at a modest $295.00. This price will include one trip to inspect the problem, a trip to the supply store to gather all the necessary material (remember there are hundreds of different roofing materials making it impossible to carry all the material we need with us) and then a trip back to your property and approximately one hour worth of work on the problem.
Any potential further costs will be addressed at the time of our initial meeting.  
There won't be any surprises!
Paragon Exteriors LLC has experience working with local home insurance companies and we can make the process as painless as possible for you.  We understand the insurance paperwork process and we can provide detailed, written reports on the condition of your roof and the recommend course for repair.  Our roofing inspectors are familiar with the process of working with your adjuster to make sure your roof is repaired the right way.
Paragon Exteriors LLC – The Most Careful Roofers In Mukwonago WI

Watch How Paragon Exteriors Cleanly Removes This Shingle Roof – With NO Mess!
The old way of tearing off a roof often leaves a homeowner with damage to their property.  Most roofing companies are still doing this!  They simply throw some tarps down on your lawn or garden areas and begin tossing off the old shingles.  If you take pride in your lawn and landscape then you should always ask your roofing contractor how they plan on handling all the debris from your roof tear-off.  Shingles are very heavy and an old roof on an average sized home can weigh several thousand pounds! Those shingles being thrown onto your lawn and landscape can cause serious damage leaving giant divots in your lawn and even breaking small trees, shrubs, and flowers in your gardens.
Paragon Exteriors LLC has invested in a special piece of machinery called "The Equipter" for our roofing tear-off projects where the homeowner is concerned about their landscaping.  The Equipter is a portable dumping trailer that can safely and nimbly navigate your lawn and landscape without causing damage.  The great part about this specialized machine is that it's really a dumping trailer in disguise!  That Equipter actually LIFTS UP to the same level as your roof, making it safe and easy for our roofing crew to dispose of your old shingles without tossing them down all over your yard.
Why Choose Paragon Exteriors LLC For Your Roof Replacement, Installation or Repair in Mukwonago?
When you choose to work with Paragon Exteriors for your roofing project you are partnering with roofing industry professionals who take your commitment to your home seriously.  We'll show up when we say we will, we'll make every effort to protect your property and keep it clean, we'll provide you with the best roofing installation possible, and for a fair price too!
Paragon Exteriors LLC offers homeowners several unbeatable promises including our promise of fair pricing, including our promise to meet or beat competitors pricing.  And Paragon Exteriors employs certified installers so your roofing system is covered by the full manufacturers warranty including our own rock-solid workmanship warranty for as long as you own the home!
We rely on word-of-mouth advertising and our glowing online reviews from Mukwonago residents to drive new customers to our roofing business.  We take the hassles and stress out of your roofing replacement or installation.
If you'd like to receive an estimate for your roofing project please call 262-565-8282 or fill out our contact form and we'll get right back to you.
Our Mukwonago Wisconsin Service Area