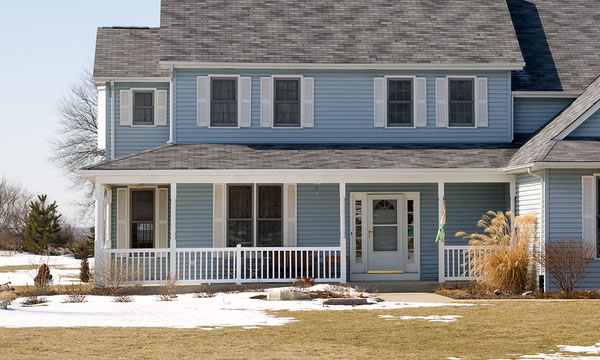 One of our favorite siding products to install on Waukesha & Milwaukee homes is CraneBoard SolidCore siding. There are a lot of insulated siding manufacturers on the market but none have perfected the manufacturing process quite like Crane.
Why Would You Install Insulated Siding?
Insulated siding will help you reduce your energy costs because it raises the R value (insulation value) of your home.  This reduces your heating costs and cooling costs.  Insulated siding is also very quite and can work to reduce outside noises by up to 45%.  This means that harsh windstorm you can hear against your vinyl sided home will be nothing but a tiny whimper in your home with insulated siding.
Not only that, you will never need to paint your siding again for the lifetime of the house as CraneBoard requires no painting, scraping or prep work.  It's ready-to-install on your home.
Only Solid CoRe® insulation has moisture management ridges that provide space for ventilation
Neopor® from BASF SE adds up to a 19% better R-value depending on profile
No painting. No scraping. True Maintenance Freedom.
Absorbs and reflects radiant heat with Neopor®
Reduces thermal conductivity
200% stronger bond with our TXL™ Lamination Technology
64% greater impact resistance
Quiet! Reduces noise up to 45%
Wind resistant up to 160 mph
Authentic straight-face design with clean hand-milled cedar grain look
Life of the Home Limited Warranty
Crane also manufacturers numerous siding accessory products that can drastically change the look of your home. Everything from different window trim all the way to different soffit trim pieces.  If you want to drastically change the look of the siding on your home, this is the product for you.
Paragon Exteriors specializes in installing insulated siding on Waukesha and Milwaukee homes.  If this is an upgrade you've been considering for your home then please give us a call and we'd be happy to discuss your options and if insulated siding is the right choice for your home.