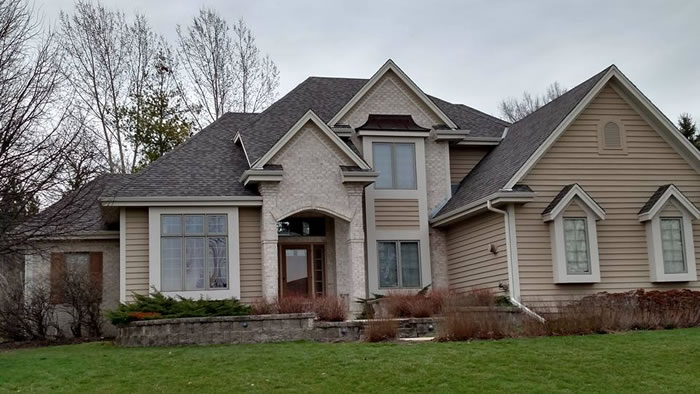 Steep slope roofing systems are commonly found installed on homes throughout Waukesha, Wisconsin.  The steeper the pitch of your roof, the more dangerous it is for a roofing crew to be working around on your roof so there are extra safety precautions that must be followed.
Paragon Exteriors has extensive experience with steep slope roofing projects and can bring our years of roofing experience to your project.
The slope of a roof is also referred to as the "pitch" of the roof. The slope, or pitch,  is determined by the vertical rise in inches for every horizontal twelve inch (12″) length (called the "run"). A roof with 6 rise/12 run slope means that for every 12 inches horizontally (run), the roof rises 6 inches.
Safety is obviously a major concern on a steep slope roofing project and we don't cut corners.  We are fully licensed and insured and our professional roofers have been properly trained working on steep slope roofs.  Whether you are a builder, a homeowner, or a property owner you can rest assured that your steep slope roof repair or replacement will be handled professionally and completed to your local building codes.
Steep Sloped Roofing Services We Offer:
Asphalt Shingles
Designer/Architectural Shingles
Stone Coated Metal Shingles
Standing Seam Metal Roofs
Composite Shake and Shingles
With Every Steep Sloped Roofing Project We Do:
Complete Tear Off.
Detailed Roof Decking Inspection.
Addition of Correct Venting if not present.
Quality Roofing Material (of your choice).
All Roofs Projects Exceed County Codes.
We know you've probably taken great care of your property and we'll protect it as if it were our own.  We'll be sure to leave zero trace of our presence aside from your brand new roof.  We'll use a magnetic roller to clean-up any nails that may have fallen on the ground and we'll even clean out the gutters of any debris from installing your new roof too.