The Importance Of Having Your Waukesha Roof Inspected By A Professional Roofing Contractor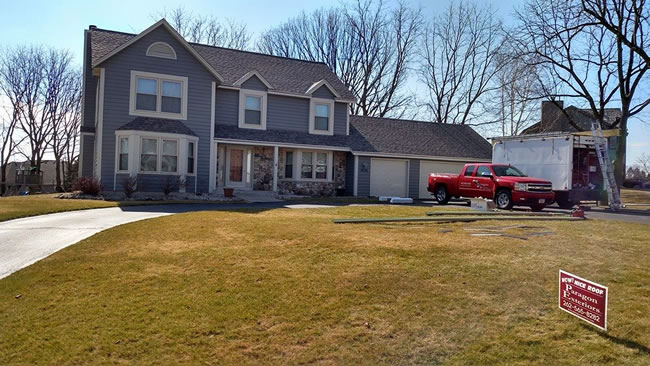 The Importance Of Having Your Waukesha Roof Inspected By A Professional Roofing Contractor
Roofing Isn't Something You Want An Inexperienced Eye To Be Inspecting…  There Is A Lot To Look For!
If you're like most homeowners, chances are you don't think about your home's roof very often. When was the last time you inspected your roof for damage, wear and moss? Did you know that your roof needs a proper inspection twice a year to help ensure it is in good condition and providing the best possible protection for your home?
Although you can get out a ladder and climb up on the roof yourself to inspect it, calling in a professional to inspect your roof helps eliminate any chances that something will be overlooked.  Professional roofing contractors remove and install roofs daily, they are very adept at knowing exactly what to look for.
Roofs that are not properly inspected and maintained can lead to a number of issues for homeowners. These issues are costly and time-consuming, and often cause damage to personal belongings and to the home itself, which results in even more costly repairs.  The sad part is… Many of these instances could be prevented with annual inspections.
What Does a Professional Roofing Inspector Look For?
A professional roofing inspector can give you an accurate assessment of your roof's condition and make suggestions on how to improve any weak areas or whether you need a repair or replacement.
The roofing professional will check your roof from the outside, as well as from the inside. This means going up into the attic to look for proper insulation and ventilation, as well as the signs of moisture and mold that may uncover an unknown leak.
When up on the roof itself, the inspector will be able to check the condition of the shingles, chimney work, and flashings. The inspector will also look for obvious signs of leaks or ice dams.
Water Intrusion
Your home's first defense against the wind, rain and snow is its roof. When the roof is not in good repair, water intrusion can cause a number of expensive problems for the homeowner. The first areas of the home to be damaged by a leaky roof are the attic and the ceiling. The leaking water can also damage paint and plaster on walls, as well as ceiling-mounted lighting fixtures and fans. Leaking water over electrical wiring can cause electrical shorts which is a serious fire hazard.
Be aware of signs that your roof is leaking water, and call immediately if you see any of the following:
Water spots on the ceiling
Water spots on exterior walls
Water stains on pipes that vent the furnace or heater
Peeling paint under roof overhangs
Mold and Mildew
One of the most serious issues with a leaking roof is mold and mildew growth. Once it's established, mold can spread throughout the home's structure, into the HVAC system, and then throughout the rest of the house, invading carpets, furniture, clothing and creating a major health hazard for yourself and other occupants in your home.
Chronic water intrusion can cause black mold. Although toxic black mold is rare, even the non-toxic black mold can attack wood floors, ceiling tiles, and wall and floor coverings. Removing mold from your home is very expensive and very difficult.
Mold and mildew can lead to serious health issues, especially for those who are sensitive to them. Complications can include nasal congestion, asthma, and inflammation. As mold spores continue to reproduce, more serious health problems can occur.
Moss and Algae
Moss tends to grow on roofs that are shaded and exposed periodically to cool, damp weather. However it is important to note that moss and algae growing on a roof's surface are not just a cosmetic issue.
The presence of these organic growths can reduce the life of the roof covering by causing shingles to deteriorate and eventually rot completely. You can discourage the growth of moss and algae by keeping your gutters clean, trimming away any trees that touch your roof, and by having your roof professionally inspected twice a year. The best way to prevent these growths is by catching them early and before they do lasting damage to your roof.
Ice Dams
Did you know that the beautiful icicles lining your home's gutters could spell disaster for your roof? This is because the same conditions that cause those icicles can also cause ice dams. Ice dams are thick ridges of ice that build up along the eaves. The weight of the ice dams can tear off gutters, loosen shingles and cause water to back up and leak into your home.
There are a number of roofing improvements and maintenance options that can be completed by a professional to help prevent ice dam build up on your home's roof. These include proper ventilation and insulation, flashing around the chimney, and properly sealed ducts. The professional who inspects your roof will be able to check for these preventative measures and more.
Conclusion
The best times to have your home's roof checked are in the fall before the winter weather occurs, and again in the spring to see how your roof has fared the cold season. When properly inspected and maintained, your home's roof will offer many years of protection from the elements.
Paragon Exteriors LLC is a full service roofing contractor that specializes in roofing inspections, roofing replacement and repairs.
We Offer Our Roofing Services in The Following Areas of Wisconsin
[one-half-first]Waukesha Roofers
Roofers in Pewaukee
Brookfield WI Roofers
Roofer in Delafield Wisconsin
Roofers in Mukwonago WI
Roofers in New Berlin WI
Wales WI Roofers
Roofers in Muskego WI[/one-half-first][one-half]Roofers in Oconomowoc WI
Roofers in Dousman
Elkhorn WI Roofers
Johnson Creek WI Roofers
Lake Geneva WI Roofers
Watertown WI Roofers
East Troy WI Roofers[/one-half]
Give us a call or fill out one of our email forms today and we'll get right back to you so we can answer any questions and schedule a time for your estimate.