Understanding The True Cost of Your Asphalt Shingle Roof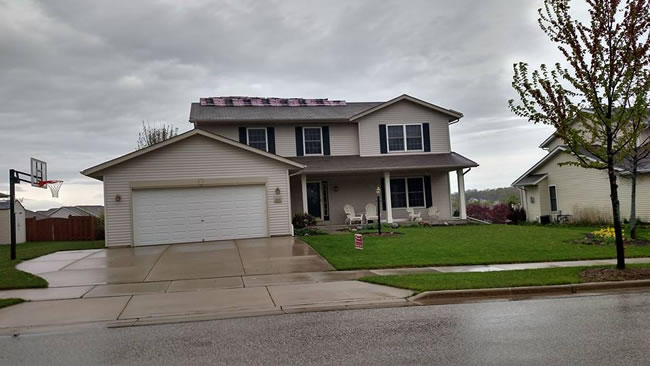 Understanding The True Cost of Your Asphalt Shingle Roof
Asphalt roofs are one of the most cost­ effective types of roof available from Paragon Exteriors.  But there are many other reasons that most homeowners in (City) have asphalt shingle roofing.
When you get an asphalt shingle roof from Paragon Exteriors, you get so much more than a stylish and durable roof on your home.  A new roof can dramatically increase your property's market value, according to real estate agents. Homeowners look for properties they won't need to constantly maintain or fix up. As well, if you're renovating your home, choosing between asphalt shingle, metal, or other types of roofing material for your residence will determine your roof maintenance schedule for the foreseeable future. If you live in Waukesha WI, you can trust Paragon Exteriors to provide the best advice, installation services and quality materials for your home's new roof.
Asphalt Shingle Roofs are Affordable

The cost of an asphalt shingle roof installation is usually much less than other types and up to half or more of a metal roof. You're probably wondering if asphalt shingles do as good a job as other types of roofing?  Yes, over hundreds and hundreds of roof installations we can confirm they do when properly installed by a professional roofing crew.
All of the roofing options from Paragon Exteriors will do a great job protecting your home in Waukesha from the weather in Wisconsin.  Installation costs are lower for asphalt shingle roofing because they are much less labor intensive than other types of roofing. A quality asphalt roof installation is typically done much quicker (often in one day, sometimes two) and with less required precision than metal roofing.
This is because a metal roof requires specialized professionals to install and maintain specific kinds of material. Using dissimilar materials during a metal roof installation will cause rapid corrosion.  Your structure must be able to support the weight of other roof types as well and Asphalt shingles are quite light.
Asphalt shingles are plentiful as they are the most popular roof type in Waukesha and they have less building material type requirements.
Maintenance Costs are Lower for Asphalt Shingle Roofs
The main reason behind the differences in cost between metal and asphalt shingle roofs is the need for maintenance. Metal roofs do not require half as much maintenance as asphalt roofs. This is because an asphalt roof may need routine repair and replacement every 15 years or more. Metal roofs can go as long as 50 years without routine maintenance.  However, if a metal roof needs repairs or routine maintenance sooner, the costs of that work is much higher compared to work done on asphalt shingle roofs. A metal roof installation can be complex and require more labor intensive work for professional roofers. Metal roofing panels can also lose their color over time and may need to be recoated to protect them from ice build up. As well, special equipment and support structures may need to be built for metal roofs which drive their cost.
Asphalt shingles can be sourced quickly and cheaply for you if you need them which means replacements are done faster and more affordably on average. As well, you won't need to endure the same high cost of a metal roof because the shingles are ready made. They don't need to be treated or retreated like metal roof panels do. Simply replacing the shingle with the same type will restore your roofs water resistance and aesthetic appeal.
Asphalt Shingle Roofs Protect Your Home
An asphalt shingles are very durable, lightweight, and versatile. If you're looking to replace the roof of your home, asphalt shingles are great choice no matter what the weather in Waukesha. An asphalt shingle roof will resist water, snow and ice very well in winter and spring months without cracking. As well, in summer, the heat of the sun is reflected away, keeping your home cooler.
During extreme weather, asphalt shingles hold up well against high wind and hail impact too. When you get a Paragon Exteriors asphalt shingle roof, you can bet that it will keep your property from being damaged by the elements.
Who Installs Asphalt Shingle Roofing in Waukesha WI?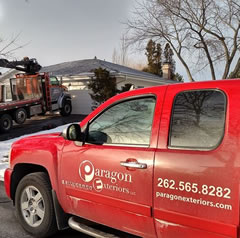 Paragon Exteriors is a full service roofing contractor based out of Waukesha, WI.  We specialize in all aspects of asphalt roofing systems from new installations on new construction homes to roof replacements to roof repairs and more.  If your roof has been damaged and you need a contractor to repair or replace your roof under your home insurance we are well versed in the mountain of paperwork and photos that must be provided and can help you get your home back into it's original condition.
If you need asphalt roofing replacement or repairs in Waukesha, WI then give Paragon Exteriors a call today at 262-565-8282