Protecting Your Property During a Roofing Project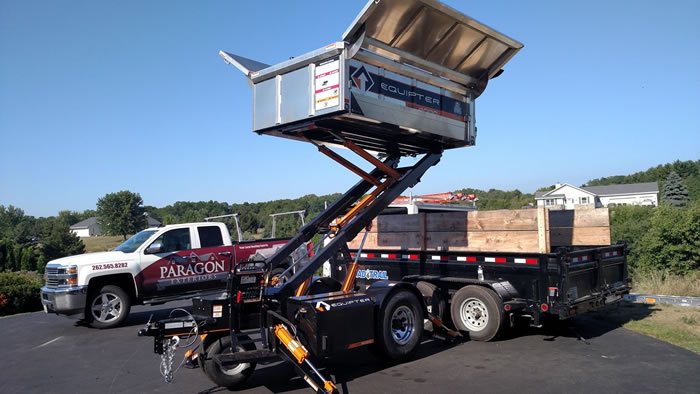 Most people might not even consider property damage from a roofing project as an actual issue, if they've never had their home re-roofed before!
One of the major issues with any residential roofing projects is accessibility of the project.  Your roofing contractor needs to gain access to the roof (safely) from several locations on your property.
This could mean driving equipment over your lawn and gardens or even a hardscaped area if it presents the easiest access to the roof.
Once access to the roof has been gained then the roofing crew will have to begin tearing off and disposing of your old roofing shingles.  This is where the problems can arise if you've chosen a contractor without the right equipment or methods.
Some contractors will use a dumping trailer that they will back right up to your home so the roofing crew can simply toss the shingles down into the trailer.  Other contractors might just throw down a tarp and toss the roofing material there and others might use nothing!  All of these inefficient methods result in the old roofing materials being carelessly tossed over the edge of your roof and right out onto your lawn and into your gardens, destroying your plants, flowers and shrubbery surrounding your home in the process.
Paragon Exteriors takes great care of our customers properties and we do this by utilizing a specialized piece of equipment, almost purpose built just for this very purpose of protecting your property during major exterior renovations like a roof replacement!
Introducing… The Equipter!
This specialized dumping trailer makes our job of protecting your property much, much easier and not only that, it saves labor on your project because we are handling the materials less and we can offer the most competitive pricing!
So What Does The Equipter Do and Why Should You Care If Your Roofing Company Uses One Or Not?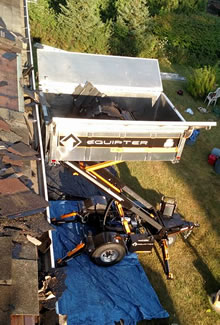 Well, if the property around your home is already in bad shape or uncared for, then you probably don't care whether we have one of not.  If you're one of the many homeowners who's invested much time and money into their landscaping and cares about the appearance of their property then you'll love what the equipter can do and you won't hire a roofing company unless they use one!
The equipter is a light weight and highly maneuverable dumping trailer that we can position right up next to your home.  It's much lighter than a vehicle with a dump box or even a regular dumping trailer and won't damage your lawn while it treads lightly across.
The unique feature of the equipter is it's ability to be raised up to your roof height using hydraulics.  This positions the dump box right where our roofing crew needs it so we can ensure your old roof is removed and disposed of with minimal hassle and fuss and we won't be tossing heavy bundles of torn up shingles into your landscaping.
Why Choose Paragon Exteriors For Your Waukesha Roofing Project?
Paragon Exteriors is a full service roofing contractor that specializes in replacing roofing systems on homes that have established landscaping where the homeowner is concerned about damage to their property from the roof removal process.  We are one of the only roofing contractors in the area using this specialized equipment to keep your property clean and your landscaping safe from damage.
If you'd like an estimate to replace the roof on your Waukesha home with No Mess and No Fuss then please give us a call 262-565-8282 or fill out our online contact form and we'll get right back to you.