What's The Difference Between Professional Roofers and "That Guy"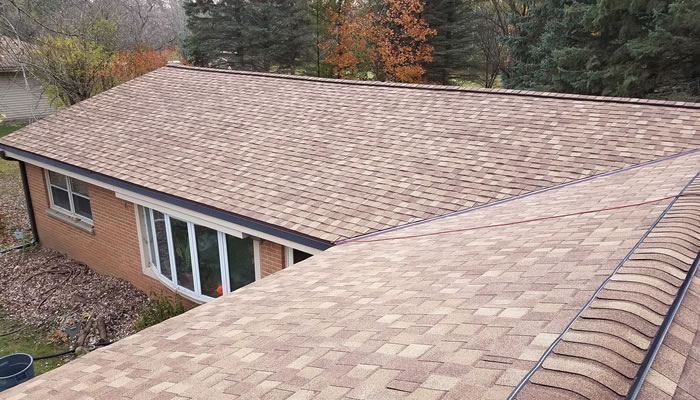 Are you looking for a professional roofing contractor in Waukesha WI?  With just some quick Google Searching there are plenty to choose from, but what if you've been given the name of a roofing contractor from a friend or you've had someone show up at your door trying to sell you a roof?
How do you know how to spot a professional roofing company so you can avoid the headache and protect your wallet from an unreliable "contractor"?  This article will explain the differences between professional roofers and some guy with tools, there are many and they are very important if you want a roofing system that will deliver problem free, peace of mind.
Does Your Roofing Contractor Have Insurance?
Don't be afraid to be ask them!  It's ridiculous how many roofers are running around selling roofs to homeowners in Waukesha without proper insurance in place.  This leaves you totally unprotected should they cause damage to your home or your property or a neighbors property.  Professional roofing contractors are usually over-insured and can produce these documents upon request or provide copies for potential customers who are concerned.  If a contractor doesn't have adequate insurance while they are performing work on your property you'll be chasing after them for any damages instead of an insurance company.  They could drop a bundle of shingles on your car, maybe roofing debris being thrown off the roof destroys your landscaping?   Do you really think a fly-by-nighter will step up and pay for any damages?  It's unfortunately highly unlikely.  Hiring a roofing contractor with proper insurance is critical!
Does Your Roofing Contractor Provide A Warranty And Does Their Work Actually Qualify For Coverage?
The roofing industry likes to boast about the warranties on their products but the warranties are only as good as the contractor performing the work!  Roofing manufacturers have strict installation requirements for their materials and if these requirements aren't met they won't have to honor their warranty.  If your shingle manufacturer calls for 6 roofing nails per shingle and your roofer only uses 3 per shingle you won't have the warranty coverage you're relying on for peace of mind.  To make matters worse, if you're hiring a contractor to do the work how do you know if they'll even be around in another few years or whenever you have a problem?  You don't!  You can only rely on their reputation and quality of the work they complete.
Professional Roofers Seek Certifications – Unprofessional Roofers Avoid Them!
Almost every roofing material manufacturer offers their own contractor or installation certification programs.  Don't assume that just because a contractor sells you some shingles that it means they are certified to install them.  These roofing manufacturer certifications are usually held at local building supply stores or the corporate offices of the manufacturer and they can take a full day, sometimes several days to complete.  This is usually followed up with a certain amount of roofing installations that must occur before certification actually takes place.
These certification courses are put on by the manufacturers so they can train contractors how to properly install their products and reduce the amount of warranty claims or complaints due to poor installation practices of un-certified contractors.
Paragon Exteriors LLC has taken certification courses and holds current certification with Owens Corning (Preferred Contractor), GAF/ELK (WeatherStopper Certified) and CertainTeed (Select ShingleMaster).  If we're installing a new roof on your home you can be sure it's being done the right way!
Why Are There Such Large Pricing Discrepancies Between Roofing Estimates?
If you've asked for 3 different roofing estimates you're likely going to get 3 different prices and scopes of work.  But what do you do when the estimates aren't even close to each other price wise or some of the bids have left out important details?
This can be a tough one for a homeowner but here are few things to look for:
#1.  Are the roofing products the same?  It's not uncommon for a homeowner to be sold one product, while another similar, lesser quality product is installed instead with the roofer pocketing the difference. Professional roofing contractors only sell and install the finest roofing materials from manufacturers that have proven themselves over many years.
#2.  Are the installation specifics the same?  Do you know if their installation processes are the same?  How many nails per shingle do they use?  Do they lay down roofing paper and a proper ice shield?  Are they adding in proper roof ventilation to your home if it's inadequate or will this be an additional cost to you?  Do they include proper roof flashing in all the places it's needed or will this cost extra?  Are they providing you with a written warranty and the specifics of your coverage?
#3.  Do they provide start dates and finish dates?  You want a firm start date (weather permitting) and a firm end date of your project.  What you don't want is to hire that roofing contractor who only completes a portion of the project and it drags on for much longer than expected.  When it comes to a roof installation you only want a short window of time that your house is left unprotected after a roof tear-off.
What About The Roof Flashing?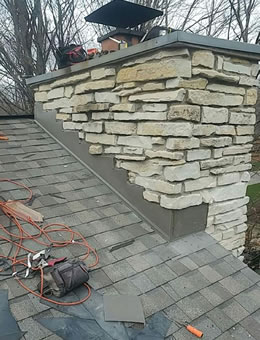 This has it's own section because the roof flashing is a critical part of your roofing system and it's a common place a shady roofing contractor will cut corners because you'll probably never go look until it becomes a problem.  Roof flashing is required anywhere your roofing material meets another material on your roof such as a wall, a chimney, a skylight, a vent or exhaust there needs to be flashing that surrounds it and prevents water from intruding at the seam and under the shingles.  This flashing can't be hastily thrown together with a cheap sheet metal brake and a pair of tinsnips, that's a recipe for disaster.
Your roof flashing can't be hastily thrown together with a cheap sheet metal brake and a pair of tinsnips either, that's a recipe for disaster.  Roofing contractors that stand behind their work will make sure that your roof flashing is made to fit and properly installed.  No two roofs are exactly the same when it comes to flashing and sometimes it takes a little bit of extra patience and time but it's one detail you don't want to overlook.
What About Protecting Your Property During a Roofing Project?
Protecting your property during a roofing project is something a professional roofing contractor takes very seriously because we know how damaging it can be if we're not careful!  Typically roofers will toss your old roofing material off your roof onto a tarp laying on the ground or into the back of a pickup or a dump trailer.  This can work okay when the roofer is actually watching where the shingles land but most of the time they are just tossed in the "general direction" of the dump site which leads to damaged landscaping including lawns, gardens, trees and plants.
Paragon Exteriors LLC has taken our property protection for our customers to the next level with the addition of our "Equipter" portable, height adjustable dumping trailer.  This amazing piece of equipment allows us to lightly wheel a dumping trailer around your home closest to where the crew is working.  The Equipter can then be raised up the same level of your roof!  This eliminates the standard roofing mess that a fly-by-night contractor might cause on your property.
Why Choose Paragon Exteriors LLC For Your Roofing Project?
When you choose Paragon Exteriors for your roofing project you're partnering with a company that cares about the work we do.  We are passionate about roofing and providing our customers with a superior service in every aspect of your project.  From protecting your property from any damage to protecting your wallet from unnecessary and hidden costs you can count on us to do it right.
If you'd like to receive an estimate for your residential roofing project please give us a call 262-565-8282 or fill out our contact form and we'll get right back to you so we can schedule a day and time.