What Are The Best Asphalt Roofing Shingles For Your Wisconsin Home?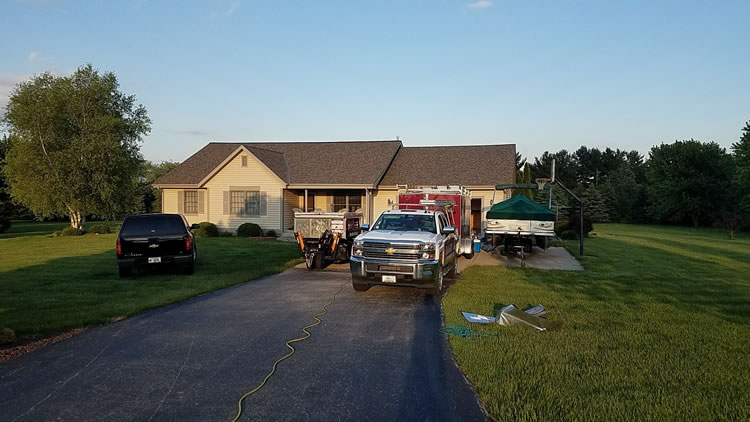 There are literally hundreds of different asphalt roofing products on the market, and with all of them spending a significant portion of their money on top-notch marketing it can be incredibly hard for consumers to make a decision or even know which direction to go!  Choosing the right asphalt shingle for replacing or installing a new roof on your home requires some research and usually some in-depth knowledge of how the shingles are manufactured.
Here are a few items to look for when trying to choose the right asphalt roofing shingle for your Wisconsin home:
Impact Resistance – For our area of the country impact resistance is important for your roofing shingles to withstand some of the heavy hail storms our area can receive.  Class IV is the highest impact resistance rating available on an asphalt shingle.
Good Cold Weather Flexibility – Poor quality asphalt shingles become brittle in cold weather and become prone to cracking and breaking.  A shingle with good cold weather flexibility is important to having a roof that will withstand many years of our Wisconsin weather.
Appealing Color and Texture Choices – The roofing on your home presents an excellent opportunity to add some curb appeal so why no look for a roofing material that offers the best looks and color choices?
An Excellent Warranty – Roofing material manufacturers are famous for warranting products and then simply not delivering on the promises when warranty claims are made.  The only way to find out who the best companies are with regards to warranties and honoring their validity would be the roofing contractors who've had to deal with them.  The best asphalt roofing shingles carry warranties of 25 years or more.  Some even stretch out to 50 years if you've installed their shingles in addition to other integral parts of their roofing system like hips and ridges.
At Paragon Exteriors LLC we are often asked by homeowners what our best recommendations are for roofing shingles. We'll help you make a great choice in a shingle that has all of the best of the above qualities without you having to do hours of research.
Currently we recommend CertainTeed's NorthGate SBS (styrene-butadiene-styrene) modified asphalt shingle for residential roofing replacement or new roofing installations in Wisconsin.  The Northgate shingle is unmatched by other standard asphalt shingles currently on the market in the same product category.
The rubberizing aspect of SBS allows for much greater flexibility so the shingles resist cracking even in the extreme cold-weather we receive, allowing for year round application in Wisconsin.  SBS also offers superior roofing granule adhesion which is one of the key components in protecting the shingle against the elements over the long-term.  Granule loss is one of the main contributors to roofing wear and eventual failure.
Features & Benefits
Class IV Impact Resistant, the highest rating available
Greater cold-weather flexibility
Increased ductile properties and granule adhesion
Enhanced crack resistance
Better weatherability
Shrink resistance
Color Choices For Northgate SBS Asphalt Shingles
Northgate Asphalt Shingle Warranty Details
CertainTeed warrants that its shingles will be free from manufacturing defects, and provides the extra assurance of SureStart™ protection. Below are the highlights of the warranty for NorthGate SBS modified asphalt shingle.  Because of its uncompromised strength, NorthGate offers one of the industry's most comprehensive warranties:
Lifetime limited transferable warranty against manufacturing defects on residential applications
50-year limited transferable warranty against manufacturing defects on group-owned or commercial applications
15-year StreakFighter® algae-resistance warranty
10-year SureStart™ protection
Wind warranty upgrade to 130 mph available. CertainTeed starter and CertainTeed hip and ridge required
Why Choose Paragon Exteriors To Install Your Northgate SBS Asphalt Shingles?
Paragon Exteriors LLC is a certified CertainTeed Select ShingleMaster.  We've undergone training and have completed specific in-the-field requirements in order to earn this designation.  We are able to offer superior installation quality backed by the full CertainTeed warranty.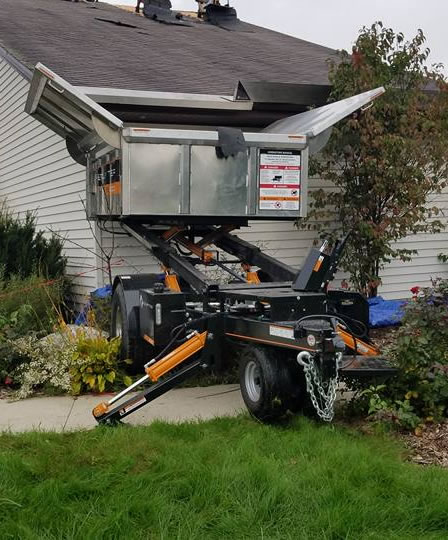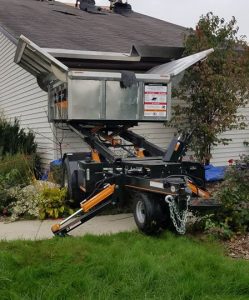 Unlike many of our competitors, Paragon Exteriors LLC has special equipment, like our "equipter" that acts as a raised dumping bin that gracefully crawls around your property and allows us to remove your old shingle roofing and toss it directly into a disposal bin without causing any damage to your lawn, gardens or landscaping.  When a roofing company tosses a few thousand pounds of shingles onto a tarp on your lawn or garden, damage is done!
We've recognized this negative aspect of roofing projects and have taken the steps necessary to ensure our customers properties are protected.  When you choose Paragon Exteriors LLC to come and install or replace your roofing using Northgate SBS shingles by CertainTeed you are partnering with one of the local leaders in the residential roofing industry.
If you'd like to have an estimate to install Northgate SBS asphalt shingles on your home please give us a call 262-565-8282 or fill out our contact form and we'll get right back to you.