How Do Roofers Price Your Roof Replacement?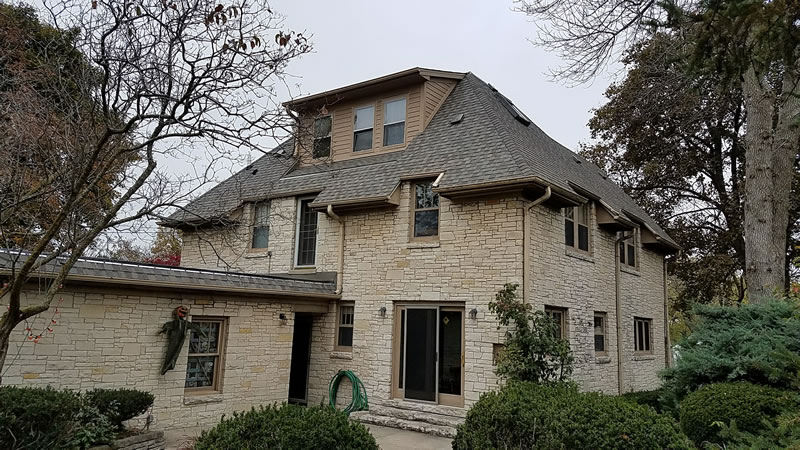 When a homeowner is shopping for a roof it's usually a decision they're going to base largely on price.  If you get three different estimates from roofing companies you're likely going to get back 3 different prices for the finished project.  If you're shopping on price and price alone you want to make sure you're properly comparing quotes so you don't short-change yourself and end up with a roof that wasn't properly installed and only leads to more expensive repairs in the future.
This article is going to explain a little bit about the differences in quotes and what factors are used to determine the cost so you can compare apples-to-apples when you're faced with which roofing contractor you should choose from multiple estimates.
Right Off The Top – Here Are A Few Factors That Dictate Price
The size of your home and square footage of your roof area.
The pitch of your roof (how steep your roof is).
What materials you're choosing (economical 3 tab shingles or laminated/dimensional shingles).
How accessible is your property?  Do we have easy access to the roof or must special considerations be made?
How many complex angles does your roof have?  Dormers, skylights, chimneys, and transitions?
How many layers of shingles does your roof currently have?
Does your current roof have any damage to the roof decking?
How detailed is their installation process?  Do they skip necessary precautions?
Let's Look At The Size Of Your Home
This one should be obvious but the more square footage of your roof area then more bundles of shingles are required.  This equates to higher material costs and higher labor costs.  When we accurately measure a roof for replacement we figure out the square footage and then we divide that number by 100 to come up with a "square" which is the standard method of measurement for roof replacement projects.
Your Roof Pitch – How Steep Is It?
A steep roof is more difficult and dangerous for our roofing crews to work on.  We consider a steep pitched roof "unwalkable" and because of that it will require special staging and safety considerations to eliminate the risk of a fall.  Steep pitched roofs might also require a specific type of roofing underlay and also specific types of shingles which can also increase the cost.  A steep roof pitch would generally be anything over 6:12 pitch.
Roof Pitch Explained
In the above example we cited a 6:12 pitch for a steep pitched roof.  This measurement refers to the number of inches the roof rises vertically (up and down) for every 12 inches (1 foot) the roof extends horizontally.
How Accessible Is Your Property
Easy access for our crews means less time spent on labor and staging your project.  Labor is often the largest expense when replacing a residential roof.  If you have a property that is difficult to access such as RV's or boats in our way, pools, garden beds, intricate landscaping, large trees close to the home, and other items that could impede our access your roofing project is going to be more expensive.
How Many Layers Of Shingles
One of the common ways a roofing contractor will cut corners with a project is to install new shingles over-top of the existing shingles.  This can save the homeowner some money (if the contractor extends that discount to them) because it saves the contractor labor in having to tear the old roofing off and dispose of it.  This poses a few problems though.
#1.  You don't really get to know the condition of the roof decking.  When the old shingles are removed you get a very good look at the roof decking and can repair any rotten decking.  If you're just installing shingles on top of the old shingles you won't get this opportunity.
#2.  Your cost of replacement or potential repairs in the future will be much more expensive.  It takes considerably more effort to remove two layers of shingles than just one layer so if you plan on living in your home for many years, it's not a wise idea to do this.  It's quite common to see when a homeowner is preparing to sell and wants to get the roof done for as cheap as possible but any savvy home inspector will notice this.
Ask your roofing contractor if they include roof-tear off and disposal in their estimate it's going to be a significant difference in price.
Complex Roof Lines
Some residential roofs are very simple like a single story home with a gable roof, this is fairly straight forward.  Others are much more complicated such as roofs with dormers, skylights, chimneys, valleys, and transitions.  It takes additional time and thought to properly install shingles and the roof flashings on a roof with many complex angles.
What Roofing Materials Will You Be Using?
Roofing shingles can vary widely in cost from your economical 3 tab shingles to your luxury laminate or dimensional shingle.  They can both do the job of protecting your home and it's contents but they are very different products.  The more expensive shingles generally have a better aesthetic look, they are thicker, more durable, and always come with a more robust warranty, to give you an example we have shingles that come with a 15 year warranty all the way up to a 50 year non pro-rated warranty.
Make sure you understand exactly what shingles you're getting with your roofing estimate.  Don't settle for something on the estimate like "high quality shingles" you want to know the exact make and type of shingle.
Damaged Roof Decking
This is something that isn't always visible from the outside of your home until the old shingles have been torn off.  It's not uncommon for roof decking to get water damage and rot especially around vents, chimneys, or other areas where roof flashing can fail.  If your roof has had problems with ice-damming in the past then it's also likely there is considerable damage to your roof decking.  These rotten pieces of plywood must be cut out and removed and then replaced.  This costs money for the materials and also for the labor required to install.
Without a thorough inspection of your roof (usually from inside the attic too) it's tough to tell if you have damaged roof decking unless there are clear issues from the outside such as large dips or dents or concave sections of the roof where the decking has clearly failed.
Ask your roofing contractor about your roof decking and the associated costs to repair it so you're not hit with an additional surprise expense when your project gets underway.
How Detailed Is Their Roof Installation Process?
Like most home improvement projects with a roof replacement the devil in in the details, there are so many ways for a contractor to cut corners and you want to be sure if you've got a low estimate in your hands, they're not going to cut corners that will cost you money further down the road.
Do they reuse or replace your existing roof flashing?  It's a good idea to replace it.
Do they install a drip edge at the edges of your roofing? (very important).
How many nails per shingle do they use to fasten your shingles?
Do they use metal flashing in your roof valleys or do they weave shingles together?  (metal is better).
Do they take extra precautions to protect your property during the roof tear-off?
What Type Of Roofing Warranty Do They Offer?
Roofing warranties can be confusing and there are two different types.  Some (not all) contractors will offer a workmanship warranty on their labor.  This can vary from 1-3 years (we offer our customers a 10 year workmanship warranty).
The problem with lifetime warranties is that you want to be sure the company you're hiring is going to be around for the next 10-20 years should you ever have a problem.  When a brand new contractor without a track record makes  a promise like this you have to ask yourself if they'll be able to honor it.  With the failure rate of new businesses the odds aren't in your favor.  Paragon Exteriors LLC has been providing roofing services throughout Waukesha and Milwaukee for over 10 years.
In addition to your workmanship warranty there is also manufacturers warranties.  These are generally only offered (and honored) when the roofing materials have been installed as a complete system including the proper underlay, venting, flashing, and shingles.  If your contractor is able to offer a full manufacturers warranty it's because they are installing your new roof following the specific guidelines laid out by the shingle manufacturer.  These are always higher quality installations and in many cases need to be inspected by a representative of the manufacturer to verify the work has been done correctly.
Paragon Exteriors LLC – Quality Roof Replacement In Waukesha and Milwaukee
Paragon Exteriors LLC has replaced hundreds of roofs throughout Waukesha County and Milwaukee County since 2009.  We are CertainTeed Select Shingle Master installers and we are also certified installers for GAF and Owens Corning roofing products.  Our installations adhere to manufacturer specifications so you can qualify for the full factory warranty on your new roof.  We also offer a price match guarantee so you can be sure you're getting the best possible price for your new roof when you compare two similar quotes.
If you'd like to schedule your roof replacement estimate please give us a call at (262) 565-8282 or fill out our contact form and we'll get right back to you.