Getting Your Roof Ready for Winter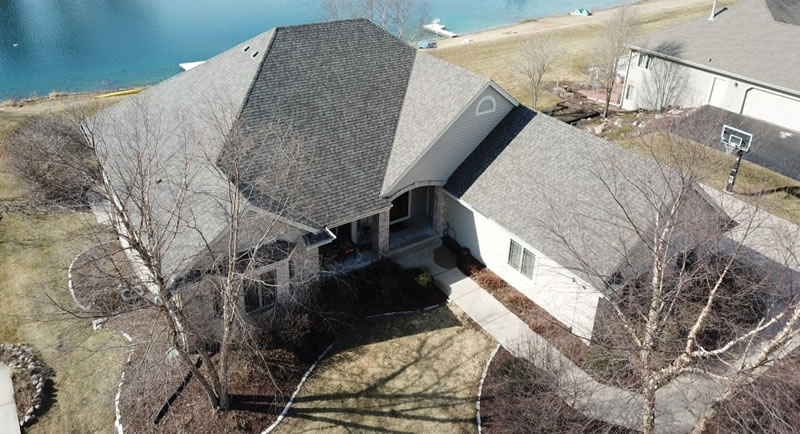 Updated September 2019:
As the Wisconsin summer comes to end, the fall and winter season moves closer.   This brings rain, moisture, snow, and eventually ice.  As a homeowner it's important to stay on top of your winter home maintenance and one of the most important parts of your home, the roof, is no exception.
As a roofing contractor, we deal with many clients every year who've suffered some winter weather damage to their home, whether it's a roof leak, a poor quality installation, or an ice dam problem, many winter roofing issues can be spotted and fixed before they ever start becoming a real threat to your home.  When it comes to your roof and your home, an ounce of prevention, well… You know how the saying goes.
In some cases, such as if your roof is already in rough shape and you know it needs replacement, you might want to get a new roof on before the weather begins to turn.  The time to act is now as you won't find many roofing companies wanting to replace your roof during the fall or winter, it can be done but it's a game against the weather.  Spring through late summer is the best time to install a roof in our Wisconsin area.
Here Are Some Tips For Preparing Your Roof For The Winter
#1.  Start With A Professional Roof Inspection.
It's one thing to grab a ladder and climb up on your roof to spot any obvious damage or problems such as torn or missing shingles, but it's an entirely new ball game when you have your roof inspected by a pro.  There are so many aspects to your roofing system that all work in synergy to keep the water out of your home.  A professional roofer will be looking for issues with your roof you likely never even thought of, and if they find any, they could potentially save you many thousands of dollars in home repairs.
At Paragon Exteriors we offer our roof replacement clients FREE annual roofing inspections.  Even though we're certified installers for Owens Corning, Certainteed, and GAF roofing products and our installations are top notch, we like to provide our clients with this value added service and peace-of-mind.  If you aren't one of our clients yet, we do offer our detailed roofing inspections for a fee, with that you'll receive a written report on the condition of your roof.
So What Are We Looking For During An Inspection?
There are a number of things we're going to be watching for when inspecting a roof prior to the fall weather.
#1.  Is there any obvious damage to the roof?
#2.  Do you know of any current leaks?  If so, where are they?
#3.  Is all of your roof flashing still in-tact and installed properly?
#4.  Do you have adequate attic ventilation for the size of your home?
#5.  Are your roof vents still in good condition or are they loose or cracked?
#6.  Are your gutters full of shingle granules?
#7.  Do you have proper drip edges installed where the roof meets your gutters?
#8.  Have ice dams been a problem for you in the past?
#9.  Does your roof decking look like it's still in good shape?
#10.  Can any leaks or problem areas be spotted from the attic?
To complete a pre-winter weather roof inspection we'll send one of our experts up onto your roof to take a thorough look.  They may also want to peek into your attic as well to try and spot any obvious issues so they can be fixed.  For really steep or dangerous roofing systems we can actually use technology to inspect your roof.  We have a drone with a high resolution camera that can be flown along your roof line to inspect the areas that might be ripe for trouble.
#2.  What Do You Do If A Problem Is Found?
If a problem is found with your roof it's a good idea to get it repaired right away.  During a roof inspection, if we spot problems that need repair, we'll provide you with an accurate estimate to fix them.  In many cases these repairs can be completed the same day or at least within a few days of discovering the problem.  The whole idea of the inspection is to spot problems before they become expensive problems after a long wet and cold winter.
Repairs We Can Complete On Your Roof:
Replacing missing, broken, or cracked shingles.
Replacing missing roof flashing.
Fixing leaking skylights.
Installing more roof ventilation.
Replacing broken or loose roof vents.
Replacing rotten roof decking or sheathing.
Ice dam prevention and repair.
#3.  Clean Out Your Gutters
While we don't offer gutter cleaning services, it's a really good idea to make sure your gutters are clean prior to the stormy winter weather.  If your gutters are clogged they won't be able to shed water efficiently which can mean the water backs up and under the right weather conditions it can be forced up along the edge of your roof line.  This causes issues with fascia boards rotting away and also contributes to rotten roof decking along the edges of your roof.
If your gutters are clogged and we get freezing rain or really wet snow then it's a recipe for disaster as the gutters will freeze, without anywhere for additional water to go, it can backup and work it's way under the edge of your roof and then your home will be susceptible to ice damming, which is never a good thing.
A good way to cut down on home maintenance is to have gutter covers or gutter protection installed on your home.  Good quality gutter covers will block everything but the water from entering your gutters and drainage system, saving you the hassles and expense of cleaning out your gutters multiple times every year.
#4.  Beat Ice Dams Before They Cost You Money
Ice dams are a serious problem for Wisconsin homeowners and we're called out every year to come and look and possibly try and repair the damage caused by them.  In many cases the damage was preventable.
#1.  Check the edge of your roof where it meets the gutters.  Do you notice any cracked shingles?  Wavy or bowed roof decking?  Are the gutters still firmly attached?
#2.  Do you have sufficient ventilation through your attic and roof soffits?
#3.  Do you have proper flashing installed on your roof where it's needed?
#4.  Do you know if your roof has a "drip edge" installed?  A drip edge is metal flashing that goes underneath your shingles at the very edge of your roof.  It helps divert water away from the roof and into your gutters.
Paragon Exteriors Your Local Roofing Specialists
Do you need to have your roof inspected before the wet weather arrives?  Paragon Exteriors LLC is one of the best rated roofing companies in both Waukesha and Milwaukee Counties.  We specialize in roof replacement and repair services.  If you're worried about your roof for the upcoming winter season we can help!  We are an Owens Corning Preferred Contractor and a Select Shingle Master for Certainteed roofing shingles.  We are very knowledgeable when it comes to roofing systems and we can make sure your roof is ready to take on a winter season.
If you'd like to schedule one of our roofing inspections please give us a call 262-565-8282 or fill out our online contact form and we'll get right back to you.