Roofs and Gutters Together Solve Water Run Off Issues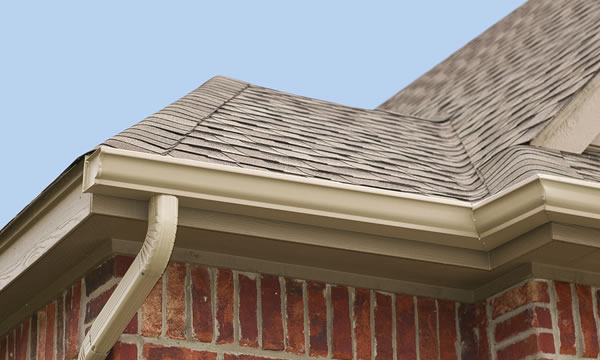 Your Gutters And Roofing Work Together To Solve Water Run-Off Issues
Your roof isn't just simply a layer of shingles thrown on top of your home, it's a full-functioning system that includes sheathing (your roof deck), water and ice barrier, flashing, ventilation (soffits and roof vents), and more.  One of the most important parts of your roofing system is your gutters.  As water runs down your roof, it runs into your gutters, which then channel the water into your drainage system and away from your home.  This protects your home and foundation from any water damage due to pooling water.
If you find that you have a buildup of water around the perimeter of your house, usually the first thing we suggest checking is your gutters.  You may have a clogged downspout, or your gutters might be broken or damaged causing water to overflow where it shouldn't.
Because your gutters are so important to the overall health of your roof (and your home) we offer gutter replacement services along with our roof replacements.  If during a roof replacement project we find that your gutter system is not in good working order we'll let you know that your gutters should probably be replaced and this can be worked into the overall cost of your roofing project.
Gutter Maintenance & Repair
Your gutters were designed to catch water and divert it into your downspouts and out into your drain tiles or drainage system.  Gutters are very efficient but along with the water they catch comes a ton of debris. Leaves, small sticks, and other organic debris will flow into your gutters and cause clogging where the downspout meets the gutter.
If your gutters are clogged for long periods of time the water can overflow or pool around your home where you don't want it to.  If your gutters are clogged and the water inside freezes, then your gutters are going to be full, very heavy, and this is a recipe for disaster.
If your gutters weren't installed properly with a good quality hanging or fastening system they can pull away from the fascia board or even pull the fascia board away from your roof.  This creates another invitation for water to enter into your home.  Keep your gutters clean!
Gutter Protection Systems
For homeowners who are sick and tired of climbing up on a ladder a few times per year or hiring someone else to clean the gutters for you, we do offer gutter cover installations as part of our roof roof replacement projects.  If you're having a new roof installed on your home we can also install new seamless gutters with a gutter cover system in place to keep your gutters from clogging up with debris and also so you can reduce your maintenance requirements and costs.
Paragon Exteriors Installs Gutter Systems As Part Of A Roof Replacement
When we inspect a potential customers roof for signs of damage and wear we're always looking at their gutter system too.  If you're spending the money to install a new roofing system then you want to make sure the entire system is going to work together to help protect your home from rainy weather.  We install seamless gutter systems and downspouts for our clients who'd like to have new gutters installed as part of their roofing system.
We offer competitive financing as well so you can get the roof and gutter system you need now without risking damage to your home because you can't afford to drop all of the money in a lump sum.
If you'd like to schedule an appointment for a roof and gutter replacement estimate please give us a call:  262-565-8282 or fill out our online contact form and we'll get right back to you.