Why Choose Asphalt Shingle Roofing For Your Waukesha WI Home?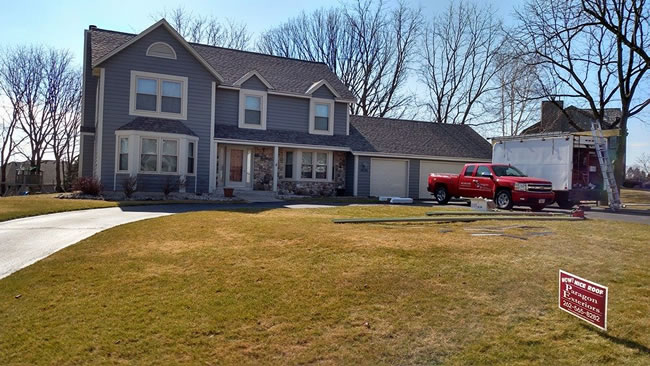 Why Choose Asphalt Shingle Roofing For Your Waukesha WI Home?
Asphalt shingles are the most widely used material for covering residential roofs for a reason.  Nearly 80% of all residential buildings have asphalt shingle roofs. This is because asphalt shingles are strong, flexible, more sustainable, and economical. Furthermore, asphalt shingles are widely seen as a popular choice for a roof because its aesthetic variety and quality.
Compared to other types of roofing material, it is also usually the most affordable as well.  Real estate agents agree that a new roof is a major selling point for residential properties. Also, choosing between a professionally installed asphalt shingle or metal roofing will determine your home's exterior maintenance schedule for the foreseeable future. Choosing a roofing material is a major decision for homeowners, and Paragon Exteriors is known for providing several options, trusted roofing advice, and the best roofing installation services in Waukesha.
The Strength of an Asphalt Shingle Roof is in its Durability Asphalt shingles are extremely durable, even in varying weather and heat. Other types of roofing material have their drawbacks in certain climates and with some architectural styles but asphalt roofing can reasonably perform across outdoor extremes and in many different environments.
Water Resistance 
Asphalt roofing is highly water resistant. When installed and heated, the shingles form an impermeable layer between the structure of your home and rainwater. Metal roofing can also be highly resistant to water but often require a layer of membrane protection underneath them. This is because damage to any panel of the metal roof may create large breaches in water tight seams. Damage to asphalt shingles from weather are quickly repaired and do not compromise large portions of the roof at a time.
Freeze/Thaw Damage Resistance
In comparison with tile or concrete roofing materials, asphalt shingles perform much better in areas where the varying temperatures of winter in Waukesha can cause frequent freezing and thawing. As tile and concrete roofing material freezes and thaws, they can crack easily, leading to leaks in your home. Asphalt shingles expand and contract easily in varying temperature, reducing chances of damage from this motion.
Extreme Weather Resistance
Although metal roofing defends as well as asphalt shingles against high winds, freezing temperatures, hail impact, and fire, when metal roofing damage happens, repairs are much more expensive.  As well, metal roofing generally shouldn't be walked on as they can sustain cosmetic or structural damage this way. Asphalt shingles are easy to find, replace and are cheaper too.
Asphalt Shingles are a Flexible Roofing Material Option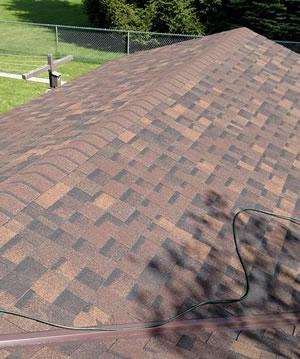 Asphalt shingle roofing can be installed on a much wider variety of residential properties than other types of roofing material. If your home in Waukesha cannot support the weight of a tile or metal roof, asphalt shingles are your best option. The shingles are much lighter than other materials and do not require any additional and heavy structural supports for installation. If you need more options when designing the look of your home, then asphalt shingles are your best option here as well because they come in so many different styles and colors. Metal roofing panels can age at different rates, especially if there are replacement panels installed, but asphalt shingles look more or less the same, even over time. As well, they are more customizable to different architectural styles, leaving you with a greater amount of options than with other types of roofing.
Asphalt Shingle Roofs Are Very Cost-Effective
Although asphalt roofs are much cheaper than the alternatives, they do require more maintenance over time. However, when the time to maintain or replace some or all of your asphalt roof comes, sourcing materials for the work is easier and cheaper. Asphalt shingles are the most popular roofing type so repairs can start and finish much quicker. As well, installation, maintenance and repairs of asphalt shingle roofs are not as labor intensive as other types of roofing. This means any work done on your roof will be much cheaper compared to metal roofing maintenance costs.
Although metal roofs keep a lot of heat out of your home, they can sometimes trap heat in homes during summer months. Depending on the type of shingle, asphalt roofs can also reflect heat away from your home and ventilate heat out of the home. This means you'll be able to turn off those air conditioners and fans, saving on energy bills in warmer weather.
Who Installs Asphalt Shingle Roofing in Waukesha WI?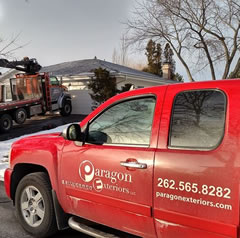 Paragon Exteriors is a full service roofing contractor based out of Waukesha, WI.  We specialize in all aspects of asphalt roofing systems from new installations on new construction homes to roof replacements to roof repairs and more.  If your roof has been damaged and you need a contractor to repair or replace your roof under your home insurance we are well versed in the mountain of paperwork and photos that must be provided and can help you get your home back into it's original condition.
If you need asphalt roofing replacement or repairs in Waukesha, WI then give Paragon Exteriors a call today at 262-565-8282