Choosing The Right Color & Style Of Shingles For Your Roof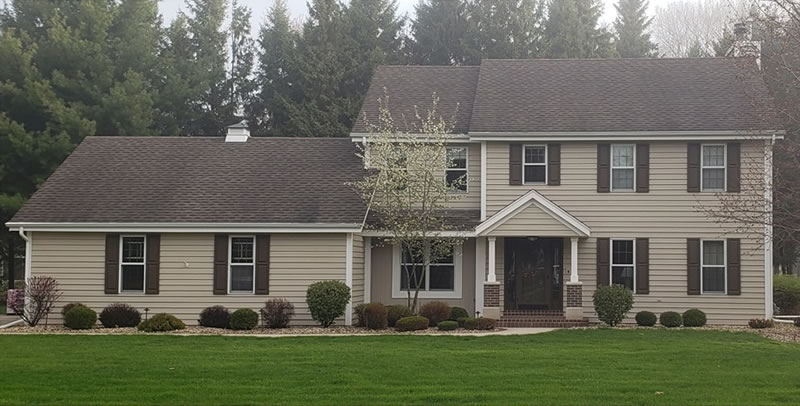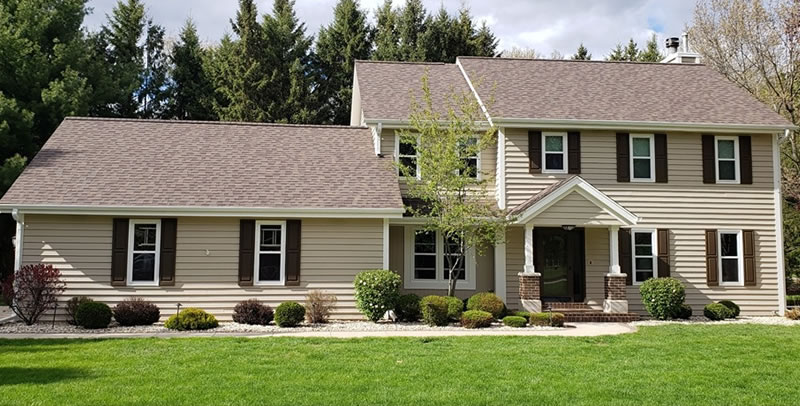 Choosing The Right Color & Style Of Shingles For Your Roof
All roofs are created the same, therefore the asphalt shingles you choose to lay down are the same whether you buy CertainTeed, Owens Corning, or the cheapest roofing shingles your roofer can quote you to install, right? Not exactly!  In fact, there are quite a few variations of roofing shingles for you to consider when the time comes for you to decide between the hundreds of possibilities when it comes to shingles including their quality, their style, and their color.
Therefore, as a homeowner, it is important for you to assess your options, understand how each one is going to protect and beautify your home, and obviously, find the right color and finish that'll perfectly finish off your home's exterior appearance, so that it stands out and apart from other homes on the block.  Your roof can have a huge impact on curb appeal if you choose the right shingle, and it can make your house look awful if you choose the wrong style or color.
What's The Best Brand Of Shingle You Should Buy?
As a homeowner you always want to get the best bang for your buck when you decide to spend money on your home.  Roofing is no exception, with so many different shingles on the market and a wide range of prices you want to make sure the money you're about to spend on your home is going to provide long-lasting protection, value, and it improves the look of your home and more importantly how you feel about your homes appearance.
There are a number of varieties of asphalt roofing shingles you can choose from, when the time comes to install a new roof. So, which one is right for your home?  Or your budget? Let's see what some of the most popular options are, and what some of the most well-known brands are, to ensure you make the right decision when the time comes to choosing roofing shingles to install on your home.
1. CertainTeed
CertainTeed offers dozens of varieties of roofing materials and finishes for you to consider when choosing roofing shingles for your home.  They are a top manufacturer and have an excellent reputation in the industry including offering one of the best warranties available for any Asphalt shingle.  The color, finish, texture, and detail, are obviously up to you, the homeowner.
Some varieties you'll have to choose from are:
Laminate roofing shingles (architectural shingles)
RidgeVent shingles, which combine venting to ensure efficiency and a low-profile look along your roof ridge.
MatterHorn metal, a lightweight finish, brings the natural look of slate to your home's roof with the durability of metal.
Landmark or Landmark PRO (dual-layered design that emulates the appearance of true wood shake).
Of course, you'll also have dozens of colors to choose from including:
Landmark Shingle Colors
Landmark PRO Shingle Colors
Depending on which of the many CertainTeed roofing shingles you choose for your home, the options are endless, and you can truly customize your home in the manner you deem fit.
2. Owens Corning Shingles
Another popular option, and possibly one of the most well-known brands in the roofing industry, is Owens Corning shingles. When choosing roofing shingles for your home, this is a popular option as homeowners are going to receive a limited 10 year workmanship warranty on their new roof, meaning they're protected from damage from the elements, as long as they own their home.
What are your options with Owens Corning roofing products? Some popular colors to consider are:
If you can think of a color and detail in design, you're going to find it with Owens Corning roofing shingles. Additionally, there are a number of finishes that will protect the new roof you choose to install over your home with this manufacturer. Solar reflection, thick architectural shingles, blended colors, or a dimensional appearance, are a few of the details you can choose from, when installing new asphalt shingles for your home.
Choosing The Color Of Your Shingles
Now that you have narrowed down your options of the top shingle manufacturers, and are considering new asphalt shingles for your roof, what color is the right one for you to install on your home?  The color you choose is going to be on your roof for 20 years or more so it's important to put a little bit of thought into this decision.
Should you go with a traditional slate finish that doesn't stand out too much? Or, do you want that bright, bold red or green, that is going to give your home that vibrant pop of color, that other homes in your neighborhood can't help but stare at?  Of course, your color preference is going to play a role in choosing roofing shingles when the time comes to install the roof on your home. However, there are some additional details you might want to consider, in order to ensure you go with the right color for the new shingles, when the time comes for you to make your decision.
Factors that'll Play into Your Color Selection
You have a great deal of variety from which you can choose when you're deciding on the color of the new asphalt shingles for your roof. So, which one is the right one? Some of the factors you're going to want to weigh when you're making your decision include:
The color of your home's siding; you want them to blend together and match.
How the colors make you feel about your home.
The size and depth of your windows, to ensure the color proportionality matches well with the home's exterior.
Shutters and other exterior decor should match with the new roofing shingles you choose for your home.
Color blending is another factor to consider.
For example, you can blend red siding, with dark grey or black roofing materials. Not only does this bring the space together well, it is also going to look great from a distance. Blue siding works well with a grey, black, white, or slate finishes.  Maybe you have a traditional log home or timber framed home, in this case it might be a good idea to choose a pattern/color that closely resembles natural wood.  Your color palette might vary a little, but you're going to want to consider all color varieties, and try to match your home's exterior, detail work, and colors, to ensure you find the best match in roofing shingles for your home's new roof.
Tradition and Where You Live
Some homeowners want to go with something traditional. If this is the case, you might choose to keep light siding, shutters, and detail work, with a darker grain finish for your new asphalt shingles. Then, there's also the aspect of where you live, that might play a role into which colors you can choose.
Think of your homeowner's association. In some areas, you aren't even allowed to install a roof or siding of a certain color. If this is the case, you're going to have to keep this in mind when you're deciding whether to go with CertainTeed, Owens Corning, or any other manufacturer, to ensure they can match those colors. And, you'll want to consider texturing, highlighting color variants, and the overall appeal, to ensure your new roof is going to blend in well with the neighborhood, while at the same time, standing apart from other homes.
Don't Forget Warranties and Coverage When Choosing the New Roof
You obviously want a new roof that looks good and stands out; but, you also want to know the new roofing shingles you choose to install on your home, are going to last for years to come. And, in the event of storm damage, or other forms of damage, you want to know that your new roof is going to be protected with the longest warranties and guarantees.
When you choose CertainTeed, Owens Corning, or any other high-quality roofing shingle, make sure you understand how the warranty works.  How long it is for, what voids it, what is covered (what isn't), and so forth. This will not only help you find the best new roofing shingles for your home, and the perfect color profile, but it will also guarantee that your investment is going to be protected for as long as you are living in your home.
Typical Roofing Warranties Can Vary Between:
10 year warranties
25 year warranties
50 year warranties
Algae streak warranties
Wind and hail warranties
The better the shingle, the better the warranty.  In order to qualify for the longest possible warranties your roof must be installed by a certified installer who's undertaken factory or manufacturer certified training.  You'll also have to make sure your roof is installed as a "roofing system".  This means using the manufacturers recommended underlay, drip edges, ice and water barrier, roof venting, flashing, and other installation specifics.  Manufacturers design and test their roofing system components under rigourous testing to ensure they can offer such fantastic warranties so if you get a quote that is cheaper than another, make sure they are not using inferior roofing components that could void your warranty.
Don't Know Where to Start? Hire a Specialist to Help You Select
So, you still don't know which of the color profiles is best going to work for your home and your new roof. You don't have to settle on something dull, or go with the traditional colors if you don't want to because of this.  Don't panic, there are color specialists like Paragon Exteriors LLC, who can help you make the decision, while helping you find the perfect balance of color and design texture, when the time comes to select the new roofing shingles for your home.
One of our color consultants will work with you to determine your likes and dislikes, and help you profile the best new roofing colors, to have installed on your home.  After installing literally a few thousand roofs within Waukesha County and Milwaukee County we have a very good handle on what is popular, trendy, and will make your home stand out for all of the right reasons.
Paragon Exteriors LLC Can Help you Choose The Right Shingle Color, Style & Texture
Choosing the right color and style of shingle for your roof can be stressful and confusing, but it doesn't have to be.  At Paragon Exteriors we've installed thousands of roofing systems for homeowners throughout Waukesha and Milwaukee.  We can draw on our experience to help you narrow down your choices based on the style of your home and your budget.  When you're ready to choose you can take comfort knowing we offer a price-match guarantee and we offer our roof replacement clients a 10 year workmanship warranty on our installation.
You can't go wrong choosing the team at Paragon Exteriors LLC to help you with your roof replacement!  If you'd like to setup a consultation or view color samples for your new roof give us call at(262) 565-8282 or fill out our online contact form and we'll get right back to you.